05 Sep 2018

Noble leading 'full throttle' for Malvern

by Levi Gilbert

From the gridiron to the halls of Malvern High School, Alex Noble is making his mark as a Leopard. The senior is a standout linebacker for the Leopards on the field and a standout student and citizen off of it.

"Alex is working toward leaving a positive legacy of citizenship when he graduates," said Ben Dial, assistant principal at Malvern High School. "This is a student that seeks out opportunities to better himself and to serve. He's been in JROTC since he was a freshman and has participated in both school and community service events.

"There is a level of maturity with Alex about citizenship and growing as a person that's really pretty rare with high school students."

Noble started on a Leopard team that managed just three wins last year, but managed to sneak into the playoffs as the fifth seed out of the powerhouse 7-4A.

Noble is demanding more of his fellow Leopards this fall.

"I think the biggest thing I learned from last season is that it takes the entire team to win a game," Noble said.

Noble was selected to this year's 501 Football Team — 28 players representing all 11 counties of the 501. The team, sponsored by Conway Orthopaedics and Sports Medicine Center, Conway Regional Health System and First Security Bank, boasts the best the 501 has to offer both on and off the field. Noble was nominated by his head coach, Mike Scarbrough.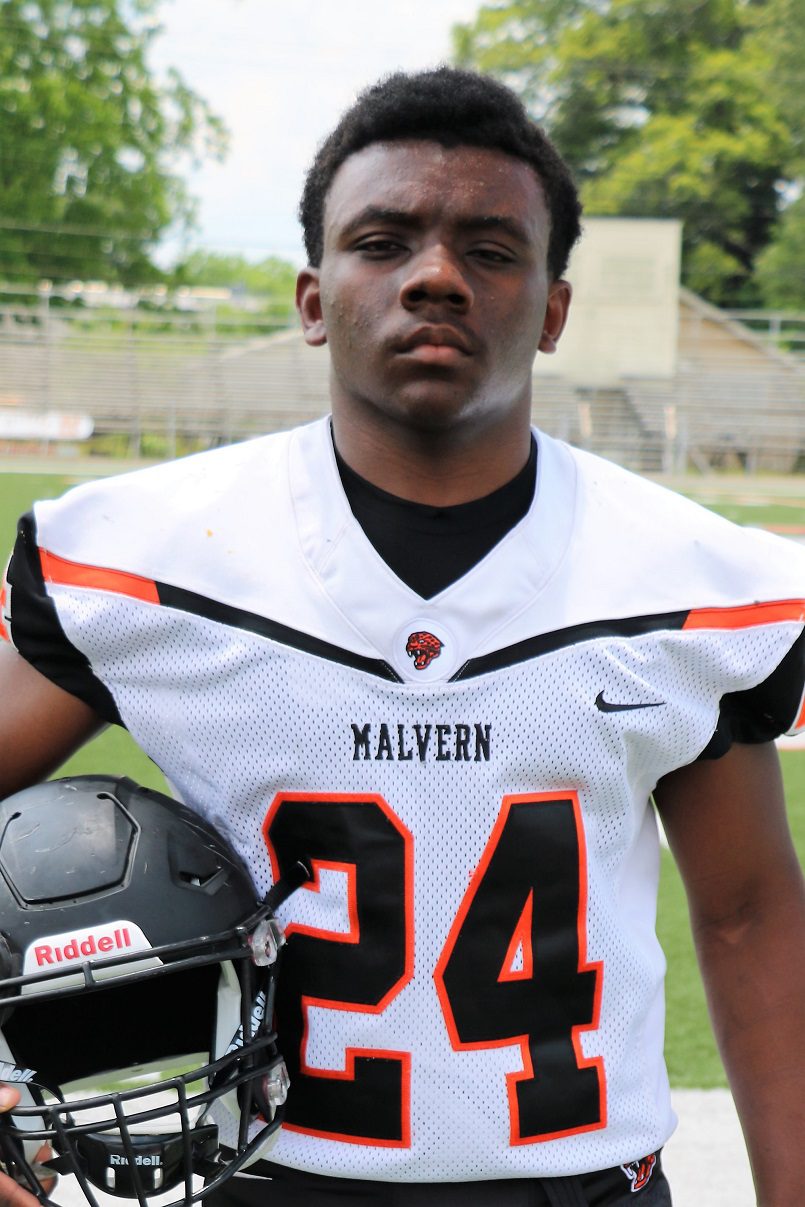 "Alex plays with passion — high energy and high intensity," Scarbrough wrote in his nomination. "We are looking to him to be a leader this year."
And he's not just leading on the field. Whether it's Beta Club, JROTC or Arkansas Boys State, Noble is respected by his peers and teachers alike.
"The teachers at Malvern rave about Alex. He has a vibrant personality in the classroom. He's accountable and a team player," Dial said. "Alex is involved in several clubs and classes that require community service. He participated in multiple forums during the school year called 'Hot Spring County Conversations.' The forum was designed for different stakeholders all over the county to discuss the future of Hot Spring County, and Alex was an active participant. The forum included politicians, business leaders, education leaders and some students. Alex was right in the middle of it, giving excellent insight of what the future leaders of our communities believe needs to happen.
"His citizenship brushes off on others. If he sees trash, he'll pick it up. Then his friends come over to help. He understands that little things impact the community in big ways if everyone does it."
The Leopards opened the season last week with a tough loss at Glen Rose, 12-9. Noble and crew are focused on bouncing back on the road this week playing up in classification at Class 6A Lake Hamilton at 7 p.m. Friday.
"Alex is as well-rounded a student as one could be," Dial said. "From taking AP classes to serving as Battalion Commander of JROTC to athletics, Alex finds a way to balance out his wide range of interests and excels at them. On or off the field, Alex goes at it full throttle."

Latest posts by Levi GIlbert
(see all)