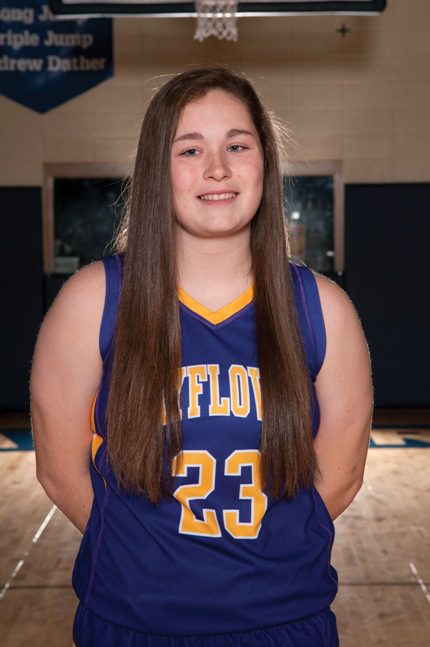 05 Feb

No challenge too tough for Mayflower's Bartlett

by Mark Oliver


Hanging high in the Mayflower Lady Eagles' locker room is a banner featuring numerous goals for the team this season.

One of these goals is to work harder than the other team. Another goal is to always give 100 percent every single play of every game. And the final goal is to make it to the state tournament.


For Mayflower junior Raegan Bartlett, these goals are no sweat, compared to what she's overcome during her basketball career.


Bartlett was nominated and selected to the inaugural 501 Basketball Team, which is made up of male and female student-athletes honored for their on- and off-the-court accomplishments and contributions. Her coach, Lacy Frost, nominated her.


"I have never coached a player that loves the game of basketball like Raegan," Frost said. "She is dedicated to doing her best every practice and every game and is one of the hardest-working athletes I have ever coached."


Since the first grade, Bartlett familiarized herself with basketball through the Upward program and watching NBA games with her aunt.


"My aunt was a big Michael Jordan fan," Bartlett said. "I liked to watch the game and always wanted to get out there and play, so I signed up for Upward in the first grade and went from there."


As her career grew, Bartlett found a role model on the court in NBA superstar LeBron James.


"He's an encourager and is very uplifting to his team," Bartlett said. "He does whatever he can to get better at the game. He is always working, even though he's already one of the best."


Bartlett began modeling not only her play, but also her personality on the court after James, with much success.


"Raegan is constantly telling her teammates how well they are doing," Frost said. "She is excellent at encouraging her teammates to keep trying and to do their best when things aren't going well on the court."


In eighth grade, however, Bartlett faced the first of many challenges throughout her career, season-ending back surgery.


"I broke my L4 and L5 vertebrae," Bartlett said. "It was questionable whether or not I'd be able to play basketball again."


Six months after surgery, Bartlett took to the court once again and worked hard to get back into playing the game she loved.


"It's a lot better than it used to be," Bartlett said of her back. "It doesn't bother me as much, but I do have a soft spot, though, so if someone elbows me, it gets really tender."


Bartlett's injury woes continued last year as a sophomore, where she sustained a knee injury that, once again, required season ending surgery.


"Raegan had a knee injury late in the season and had to have surgery," Frost said. "She quickly recovered, though, and was ready to work hard in the offseason to prepare for her junior year."


Bartlett endured yet another challenge in 2013 when she and her family were forced from their home after Exxon's Pegasus pipeline ruptured on March 29.


"I lived on the street where [the oil spill] happened," Bartlett said. "We were out of our house for six months."


Bartlett and her family were able to get a new house near the end of 2013.


"It was crazy, but we got through it," Bartlett said.


Despite her life experiences, both on and off the court, Bartlett remains positive and encouraging for others.


"Raegan is always positive no matter the situation," Frost said. "If she isn't doing well, she will keep her head up instead of dwelling on her mistakes. This is a great example for other players."


Bartlett received the "Eagle Award" last season, which was voted on by her teammates. The criteria were leadership, attitude and work ethic.


In the classroom, Bartlett is a member of National Honor Society, Beta Club and Fellowship of Christian Athletes. She also volunteers as coach of the sixth grade girls' peewee team.


"Raegan is very involved with her church youth group," Frost said. "She even went on a mission trip to Russia with her church last summer. She works hard in the classroom and is involved at school also."


After high school, Bartlett plans to continue her basketball career in college and eventually become a basketball coach.


"I'm not sure which school I want to go to yet," Bartlett said. "If I get a scholarship somewhere to play basketball — that would be amazing. I'm focusing on working hard to get there."


Mayflower plays at Jessieville tomorrow night and plays host to Episcopal Collegiate on Tuesday.