22 Mar 2023

No. 1 LSU comes from behind to beat UCA

BATON ROUGE, La. — The University of Central Arkansas Bears hung with the best team in the nation for four innings Tuesday night before the No. 1 LSU Tigers pulled away for a 10-4 victory at Alex Box Stadium at Skip Bertman Field.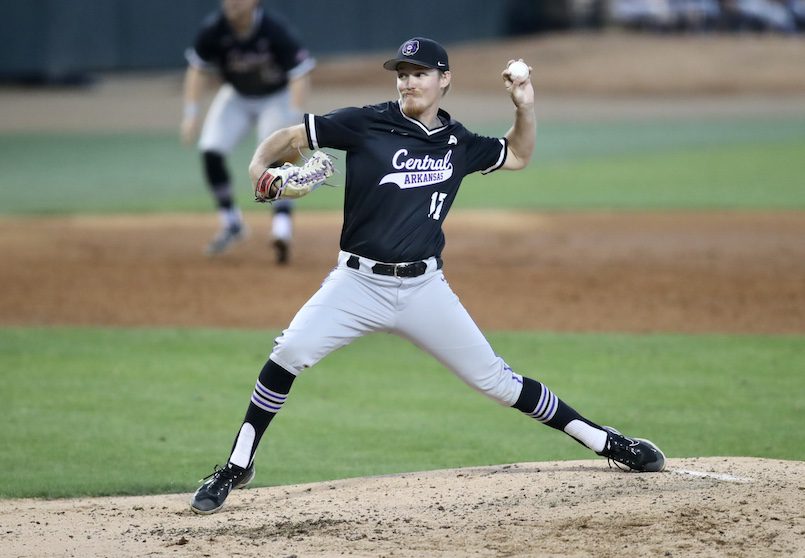 "We looked comfortable and we had good at-bats early, and I was proud of that," said UCA head coach Nick Harlan, who was coaching against a California high school teammate in LSU head coach Jay Johnson. "We got back in the game and took the lead and I thought we put together some good at-bats to do that. All in all, I thought our approach was good and we were playing with a lot of confidence. I was glad that they came prepared to play."

The Bears (11-9) were blanked for three innings before they finally got to LSU starter Blake Money in the fourth.  Freshman center fielder Kade Seldomridge started it with a bloop fly ball to center field that was lost in the lights. A hustling Seldomridge legged out a double for UCA's first hit. Designated hitter Tyler Monroe followed by lacing a triple into the right-field corner to score Seldomridge.

Evan Hafley added a sacrifice fly to score Monroe before senior left fielder Dylan Cyr blasted his fifth home run of the season over the left-field fence to give the Bears a 4-3 lead.

LSU, a six-time NCAA national champion, tied it at 4-4 in the bottom of that inning with a dribbler down the third-base line that scored Jordan Thompson. A three-run home run by Thompson in the fifth gave the Tigers a 7-4 lead. UCA reliever Payton Windham came in for the final out of the inning.

LSU, 19-2 overall and 14-0 at home, took advantage of a balk, two walks and a throwing error to put up three more runs, just one earned, in the bottom of the sixth to run its lead to 10-4.

The Tigers, who have made 18 College World Series appearances, finished with 13 hits, including two each from Thompson, Josh Pearson, Dylan Crews and Tre' Morgan. The Tigers entered the game hitting .330 for the season, good for second in the Southeastern Conference. 

"We didn't get a couple of timely hits when we needed them," said Harlan. "We didn't play well enough to win the game, although we played very hard and aggressive. We just didn't play fundamentally well enough to win the game. We gave up some free bases and made some small mistakes that cost us a little bit, extended some innings.

"But it was a good experience. Like I've always said, every time you play in this type of environment, it's valuable because you gain confidence. The more they play against really good teams in these environments, the better off they'll be for the next opportunity. So we try to put them in those situations as much as possible."  

Senior third baseman A.J. Mendolia extended his on-base streak to all 20 games with a fourth-inning walk. Cyr finished 1 for 3 with 2 runs batted in. Relievers Dillan Janak and Trent Gregson both recorded three strikeouts for the Bears.

The Bears return to ASUN Conference play this weekend at Jacksonville, Fla. Game times are 6 p.m. on Friday and Saturday and noon for Sunday's series finale.