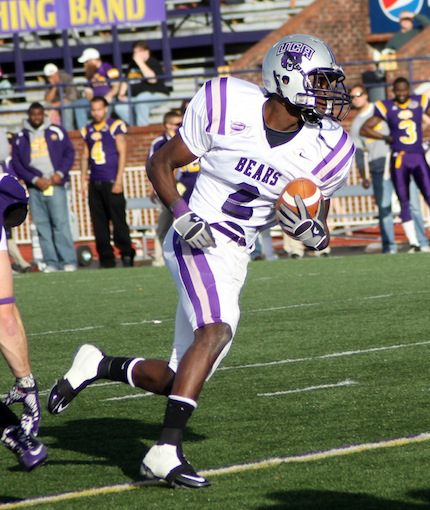 18 Jul 2012

Nine UCA Bears named to preseason team

Nine University of Central Arkansas Bears were named on Tuesday to the preseason All-Southland Conference football team, which tied for the second-most in the league.

Heading the list are three first-team selections in graduate linebacker Seth Allison of Stuttgart, senior running back Jackie Hinton of Houston and junior offensive lineman Dominique Allen of Houston.


Six more Bears were named to the second team, including: a pair of senior receivers, Jesse Grandy of Pine Bluff and Dominique Allen of Cherokee, Ala.; senior offensive lineman Corey Howard of Wichita Falls, Texas; sophomore placekicker Eddie Camara of Cedar Hill, Texas; junior defensive tackle Matt Hornbuckle of Colleyville, Texas, and junior safety Jestin Love of West Memphis.


In 11 games for the Bears last season, Hinton led the team in rushing with 673 yards on 145 attempts with four touchdowns. Hinton averaged 61.2 yards per game on the ground to help UCA reach the postseason for the first time at the NCAA Division I level. Allison was the leader on the defensive side for the Bears, recording a team-high 110 tackles (fifth in the conference) and finishing tied for fourth in tackles for loss with 15.5.


Allen was a first-team All-SLC selection last fall as a sophomore. Grandy and Croom were UCA's Nos. 1-2 receivers last season, with Grandy catching 49 passes for 788 yards and nine touchdowns and Croom getting 38 for 518 and seven TDs.


Love had a team-high five interceptions and was a second-team All-SLC selection last fall. Camara was UCA's leading scorer last season, making 14 of 19 field goals and 49 of 51 extra points to earn second-team All-Conference honors. Hornbuckle had 41 tackles and 6.5 tackles for loss for the Bears. Howard is a two-year starter in the offensive line and will be expected to lead a young group at that position this season.


Sam Houston State had 19 selections, followed by UCA and Stephen F. Austin with nine each, McNeese State was next with six, followed by Northwestern State and Nicholls State with four each and Southeastern Louisiana with one.


The Bears, who finished 9-4 last season, open the 2012 season at Ole Miss on Saturday, Sept. 1, in Oxford, Miss.