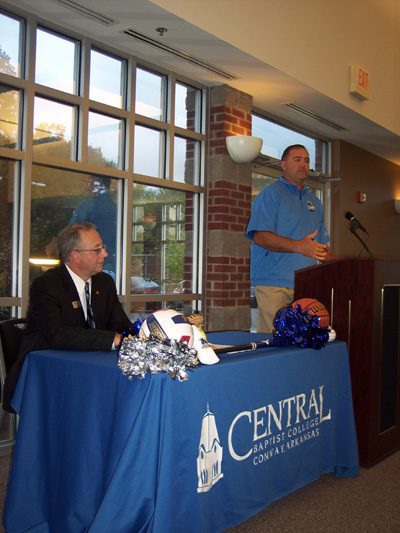 05 Oct 2009

NEWS – CBC joins NAIA

About 40 students, administrators and media gathered at the school to hear CBC President Terry Kimbrow make the announcement. "This is an exciting day for us," he said.
Members of the NAIA Council of Presidents met in Kansas City recently and approved membership applications from four schools, including CBC. Schools in Illinois, North Carolina and New York were also approved, bringing the NAIA membership to 290.
"The NAIA welcomes these four institutions and looks forward to working with campus leaders to advance character-driven intercollegiate athletics," stated John Leavens, NAIA senior vice president for membership services, in a prepared news release. "I am confident these new members share in the long-held mission of the NAIA to promote the education and development of well-rounded students and productive citizens through intercollegiate athletics."
CBC will retain its members in the National Christian College Athletic Association and the NAIA, which will serve as the school's primary affiliation.
The NAIA membership will apply to the college's 10 sports, which include men's and women's basketball, soccer, and cross country in addition to women's volleyball and softball, and men's baseball and golf.
CBC has a record enrollment of 625 this fall, with about 200 student-athletes. Other Arkansas schools with NAIA membership include Lyon College in Batesville and Williams Baptist College in Walnut Ridge, which Kimbrow noted have smaller enrollments than CBC.
When asked how NAIA membership will affect the school's athletic budget, Kimbrow responded that it will be affected but officials are not certain to what extent. "It will increase our recruiting potential more than it will increase our budget," he said. "The (CBC) board was wholeheartedly in support of this move."
CBC Athletic Director Lyle Middleton provided additional information about the NAIA affiliation, including the association's Champions of Character program which will be under the local direction of CBC Coach Justin Hawkins.
According to the NAIA, Champions of Character is the association's innovative flagship program designed to instill character values in student-athletes, coaches and youth in the communities it serves.
Kimbrow said the NAIA membership will help CBC in the recruitment and retention of quality student-athletes as well as competition on the playing fields. "We all want to win but more than that, we want the right students at our institution," he said. "We are looking forward to this new relationship."
For more information on Central Baptist College, please visit www.cbc.edu.