24 Jan 2022

New Women's Leadership Endowment established

Posted at 7:12 PMh

in

News

CONWAY — A new Women's Leadership Endowment (WLE) has been established to provide resources for bringing together female Hendrix College students and Hendrix College alumnae to create a network that offers leadership development programming, career guidance, mentoring, and internships.

The WLE will create a community of support by connecting individuals through personal and professional networks to combat the challenges women often encounter in their work-life trajectories. WLE will leverage the Hendrix Offices of Career Services and Alumni and Constituent Engagement to bring the women of Hendrix together to address such challenges.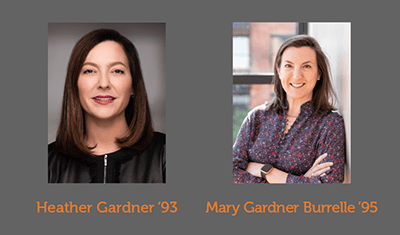 "We are excited to help cultivate a community of Hendrix women to support one another in their lives and careers," said Heather Gardner '93, who works as a financial institutions relationship manager with William Blair Investment Management and has more than 25 years of experience as an investment professional in the financial services industry. "Many of us know the inherent value of staying connected with other Hendrix alumnae, and the WLE will seek to leverage that connection for shared success."
Gardner and her sister, Mary Gardner Burrelle '95, established the WLE as a way to support leadership development for all women of the Hendrix College community, now and in the future.
"We want to support and encourage the women of Hendrix to embrace leadership as a valuable part of their journey in work and life," said Gardner Burrelle, who works for McDonald's Corporation as the head of global legal operations and chief of staff. "We're excited to have flexibility built into the WLE so it can address women's professional needs years and decades from now."
Hendrix will form a steering committee for the WLE headed by a female Hendrix faculty champion; Dr. Leslie Templeton '91, professor of psychology and associate provost for faculty development, has agreed to serve the inaugural three-year term. The committee will include a representative from Career Services, one from Alumni and Constituent Engagement, a Hendrix alumna engaged with the WLE, and a female student leader in her junior year of study. The committee will promote alumnae engagement and develop student programming.
The first use of WLE funding was to underwrite a women-focused session within Career Term, the annual career-focused workshop open to all students just before the spring semester of their sophomore year. That inaugural event was held Jan. 12 and included: a panel discussion on the nature of women's leadership, moderated by Hendrix Director of Career Services Leigh Lassiter-Counts '01 and featuring Gardner and Gardner Burrelle as panelists, along with Jennifer Martin Gadberry '95, vice president of asset management for the Heifer Foundation.
"The WLE will provide a wonderful opportunity for Hendrix's female students and alumnae to secure mentoring and career guidance," said Ginny McMurray, the College's associate vice president for development. "We are so grateful for the support provided through the WLE."