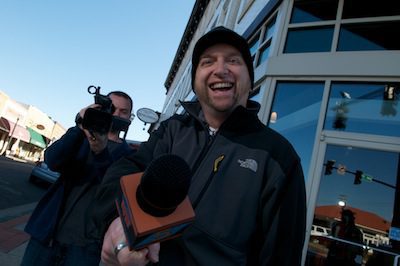 06 Mar 2012

New original programming available on Conway Corporation

Posted at 6:55 PMh

in

News

Conway Corporation Channel 5 recently added two new shows to its lineup of original programming. The new shows are Home Brewed TV and that1show.


that1show is hosted by JD Cariker and airs at 8:30 p.m. nightly with new episodes airing on Thursdays.

"We go where the people are to bring viewers entertaining interviews about current events, pop culture and life in Conway," said Cariker.


Cariker and producer Jason Miller hit the streets with their brand of sketch comedy, practical jokes and fun conversations with the people they meet.


The pair let viewers know where to find them via Facebook. (facebook.com/that1show)


Home Brewed TV offers a time slot on Channel 5 for viewer submitted content.
"We are looking for content from a kids choir concert to locally produced films," said Production Coordinator Ryan Tucker.

The show has aired several locally produced films, in addition to recitals and home video from ball games. Home Brewed TV airs at 8 p.m. Wednesdays.

For more information about content requirements and how to submit content, contact the show at 501.548.3042 or by email at [email protected].