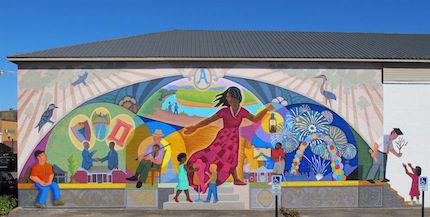 15 Apr

New mural for Downtown Conway

Work is about to begin on a second community mural for Downtown Conway after the Conway City Council voted unanimously Tuesday to match a grant from the Mid-America Arts Alliance.

The city's contribution of $8,000 gives the lead artist, Jordan Karpe, the money necessary to complete the project on the east wall of the old Grant Theater at Chestnut and Oak streets.


"This mural project is a unique opportunity for the people of Conway to come together and explore their shared home," Karpe said. "A design team of volunteers will discuss the past, present and future of their city, and through community dialogue, help translate their ideas into a composition.


"Such an involved community art process is a rarity in this part of the country, and it's exciting to see Conway give such a practice a chance."


Karpe, a 2012 summa cum laude graduate of the University of Central Arkansas with a bachelor's degree in studio art, will design and execute the mural, facilitate community dialogue and the design-approval process, do historical research and provide guidance for a voluntary design team that will assist him.


He will lead community meetings Tuesday, April 30, and Wednesday, May 1, to gather ideas and volunteers. The meetings will be held at 5 p.m. each day in the Conway City Hall Conference Room.


After the community meetings, the schedule includes design workshops with volunteers Monday, May 6, through Friday, May 24, and the painting phase with the help of community volunteers Saturday, June 8, through Wednesday, July 10.


"Six years ago, the Conway community painted a mural in Simon Park, Aurora Rising by Morton Brown, that has become a vibrant symbol of our city," said Dr. Gayle Seymour, professor of art and associate dean of UCA's College of Fine Arts and Communication. "We expect the new community mural, designed and painted by people of all backgrounds and abilities, will continue this effort to revitalize and energize the built environment of our historic downtown."


In spring 2012, Seymour and CFAC, partnering with Independent Living Services, College Square, Faulkner County Healthy Weight Coalition, Conway Advocates for Bicycles, the Conway Alliance for the Arts and the Conway Area Chamber of Commerce, applied to the M-AAA to bring Dave Loewenstein, a nationally-known muralist, to Conway to paint a community mural. She said Mid-America was — and still is — in the process of funding one mural per state in its region. Seymour's application made it to the final round, in which the M-AAA sent the artist and its staff to three finalist cities for further meetings and consideration.


"In the end, we did not receive the grant because, in their words, 'Conway was not needy enough,'" Seymour said. "The project was awarded to Arkadelphia. Although we did not receive the commission, we were able to show M-AAA our beautiful city and the amazing spirit of community that exists within our citizenry."


Mid-America did, however, select Karpe to be the mural apprentice for the Arkadelphia project.


"Jordan ended up living and working for three months in Arkadelphia, working alongside the lead artist," Seymour said. "It was a life-changing experience for him."


Loewenstein, assisted by Ashley Jane Laird and Karpe and with the support of more than 200 community volunteers, completed "From a Dream to The Promise" on the outside of the Honeycomb Restaurant at 705 Main St. in Arkadelphia.


Meanwhile, M-AAA launched a new grant program, "Artistic Innovations." Karpe applied for a grant to paint in mural in Conway and was awarded $8,000.


"This is a highly competitive grant that shows M-AAA's faith in the talents of the artist and the community spirit of our city," Seymour said.


Kim Williams, executive director of the Conway Downtown Partnership, said such projects go back to the Conway2025 visioning process, which said investing in arts and culture would be a priority.


"Artistic and cultural inventories such as the new community mural allow a community to understand the historic, cultural, economic and social aspect of a community," she said. "This is essential in creating or building a sense of place."


This mural is supported in part by an award from Mid-America Arts Alliance, the National Endowment for the Arts, the Arkansas Arts Council and foundations, corporations and individuals throughout Arkansas, Kansas, Missouri, Nebraska, Oklahoma and Texas.


For more information on the project, contact Seymour at 501.450.3295 or [email protected] or Williams at 501.548.9950 or [email protected].