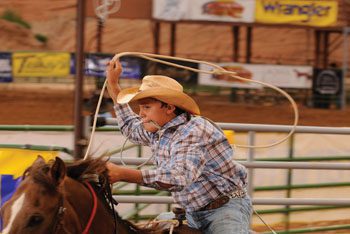 26 Sep 2009

National rodeo title highlights summer

The 12-year-old was among three Arkansas junior high students who came away with four national titles at the Wrangler Junior High Finals Rodeo held this summer in Gallup, N.M.

Jace – along with Hannah Springer of Lavaca (Sebastian County) and Ashleigh Baugh of Monticello (Drew County) – were three of 816 contestants from the United States, Canada and Australia competing in the event.

Harris is a son of Brandon and Rose Harris of Vilonia and Nicki and Greg Litchford of Horatio (Sevier County).

Harris qualified in three events: tie-down roping, team roping (with partner Jace Woods of Conway, son of Doug and Jennifer Woods), and ribbon roping (with partner Ashleigh Baugh). Springer qualified in two events: breakaway roping and pole bending. Baugh qualified in five events: barrel racing, pole bending, goat tying, breakaway roping, and ribbon roping (with partner Jace Harris).

In the ribbon roping event, Harris is responsible for roping a calf and his partner, Ashleigh, has to remove a ribbon from the calf's tail. Harris and Baugh had a solid performance in the team sport of ribbon roping with runs of 12.679 and 13.693 that sent them to the final round in 11th place. Their time of 9.478 in the short-go was fast enough to win them the round.

Harris, who was 11 when he competed, said he felt good after their run but they had to wait until 10 other teams competed before they knew if it was good enough for first place and the national ribbon roping title. It was.

Prizes for placing in the rounds and national champions included Wrangler jeans certificates, Tesky's trophy tack, scholarships, Cabela's gift certificates, Tod Slone saddles, Gist buckles, Ariat boots and belts, Resistol hats and other items.

Harris said he practiced "tons" in preparation for the rodeo competitions.

Each state holds its own Wrangler Junior Rodeo, and the top four in each event qualifies for nationals. The Arkansas Wrangler Junior Rodeo is under the direction and leadership of James and Anita Higginbotham of Crossett. Twenty-two Arkansans competed in the national rodeo.

Harris is a seventh grader this year, allowing him two more years to compete in the Wrangler Junior Rodeo Association. He plans to go next year to the national competition "if I make it."

Regardless of what happens next year, the young man's parents are proud of his hard work and accomplishments. "Since he could walk he's had a rope in his hand," Dad said with a smile.