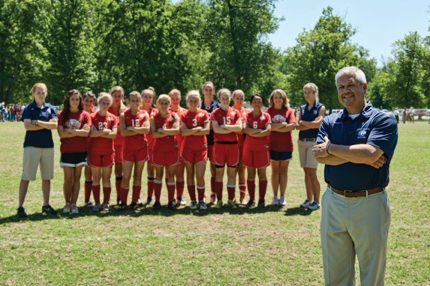 19 May 2012

'My escape my joy, my fun'

by Donna Lampkin Stephens

Ancil Lea grew up playing football and running track, but thanks to his second daughter, he's become the dean of the Conway Christian School soccer program.

Seven years ago, Kelsey Lea, who was in eighth grade, asked then-CCS athletic director Chuck Speer if the Eagles could start a soccer team – even without a field.

"We didn't have a football team at the time, and I was coaching our club (soccer team), and she said, 'My dad will coach it,'" Lea recalled. "So I get a call from Chuck, and basically we rounded up some sweet girls – maybe one or two soccer players – and the rest just real sweet girls who wanted to be involved with something."

Speer, who had grown up playing soccer as a military kid in Europe and had gone to college on a soccer scholarship, was supportive.

"Ancil always had a vision of having a great soccer program at CCS," said Speer, now the football coach at Corning. "He was always on the lookout for ways to progress the program. He would call me at all hours of the day with ideas about soccer.

"He may not have been the best coach out there, but he for sure was the most passionate coach. He had the drive to get soccer going when I had other projects going on."

Lea remembered their first practice at Centennial Soccer Park – 37 degrees, 35-m.p.h. wind.

"It was the coldest I've ever been in my entire life," Lea said. "We've just progressed from there. Our first season, we played maybe three games. We played three years before we joined the [Arkansas Activities Association]."

This is Conway Christian's fourth year in the AAA, which oversees Arkansas high school athletics.

Kelsey Lea, now 20 and a sophomore at the University of Central Arkansas, had introduced her father to the sport when he took her to practice when she was 5.

"They said, 'You're the coach,'" Ancil Lea remembered. "As she developed and her interest grew, I had to attain licenses, and I started loving the game as well. It's really a labor of love at Conway Christian. This is my escape, my joy, my fun."

His third daughter, Allison, is a CCS junior who has already attracted the attention of college coaches. Son Ancil IV is a freshman; Kendra, 12, is a sixth-grader who plays club soccer for the Little Rock Bluebirds.

"I keep wanting to retire, but I can't, really, until she gets through," he said of Kendra.

His oldest daughter, Amber, is 26 and an artist – not a soccer player.

Lea is a AAA-licensed coach and reports to Conway Christian athletic director Michael Carter, who replaced Speer after he moved to Corning. He oversees both the girls and boys soccer programs – CCS added varsity boys a few years after the girls.

"Now we're just about to start a junior high program," he said. "So my little girls' team that we put together has really grown into a full program, which really requires a lot of time. But it's a labor of love. We have watched something grow from nothing to actually be something."

The Lady Eagles have reached the state tournament every year of their AAA membership. Lea called that an "incredible" feat.

"We're really a (Class) 2A school, and we play in a (Class) 4A conference," Lea said, referring to the 3-4A, which also includes Academics Plus, E-Stem, LISA Academy, Mountain View, Riverview, Conway St. Joseph, Batesville Southside, Valley View, Jonesboro Westside and Crowleys Ridge Academy (boys only).

Class 4A is the smallest classification in Arkansas high school soccer.

The top four teams in the conference advance to the Class 4A State Tournament. The Lady Eagles' best conference finish has been third. They upset a No. 1 seed, Mena, 2-1 in the opening round of the state tournament last year before falling to Little Rock Episcopal in the quarterfinals, 2-1. The boys have been to state once.

Lea said Conway Christian had five players either being looked at or actively recruited to play collegiate soccer.

One of the secrets to his coaching success has been tapping into the local college soccer players to help him. Abby Ray, who played for Central Baptist College and is now pursuing her master's degree at UCA, helps with the girls' team; Nate Billings, assistant coach at CBC, works with the boys. Michael Gerard, now a UCA assistant men's coach, was also involved over the years.

The teams travel together. Lea said that often meant piling into his Yukon and hitting the road.

"We've been trying to build a championship program where players can build and develop their skill and be a part of a high program at a Christian school that can help them play at the next level," Lea said. "It is a special thing to be able to play for your school – championship soccer with a definite Christian twist."

Conway Christian hosts a summer camp for ages K-12. This year&rs
quo;s dates are Monday, June 11, through Friday, June 15. For more information, visit conwaychristiansoccer.com.