11 Jan 2023

Mustangs sweep College of the Ozarks

POINT LOOKOUT, Mo. – Stepping out of American Midwest Conference play for the penultimate time this season, Central Baptist College men's basketball was on the floor at the Keeter Center for the return game with College of the Ozarks. The Mustangs (13-5) led by 14 at halftime and cruised to an 81-60 win over the Bobcats (5-13) to earn a season sweep.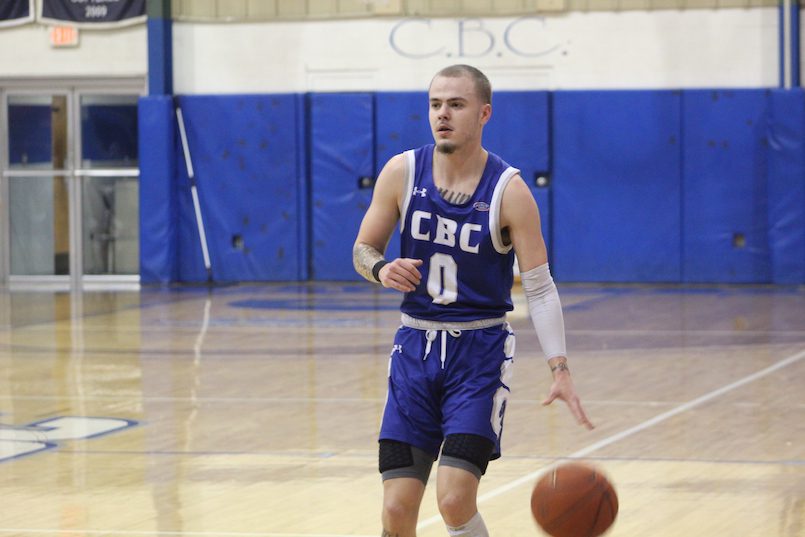 Brevin Brimble had a huge night for the Mustangs, posting season highs in points (28), made field goals (10) and threes made (six) while also grabbing a season-high five rebounds and handing out a season-high five assists. Devin Foster, Tomas Mikyska and Braylon Steen also finished in double figures scoring as CBC dominated on the glass 40-29 and from the field, outshooting C of O 48 percent to 38 percent and committing a season-low seven turnovers.
GAME FLOW
The Bobcats nailed three-pointers on back-to-back possessions to open the game and led 6-0 early on. Following a pair of free throws and another Bobcat bucket, CBC went on an 8-3 run to lead 12-11 with 14:07 left in the first half. The teams would trade baskets the next time down the court until a jumper by Steen with 12:42 left in the half gave CBC a 14-13 lead and they would go into halftime leading 45-31 and ballooned their lead out to 24 points with 4 and a half minutes left in the game before ending 81-60.
GAME NOTES
Brimble's total were the second highest of his career and he just barely missed his second career 30-point game after he scored 31 against Missouri Baptist last season
Foster and Mikyska both finished with 11 points
Steen finished with 10 points
James Moore led the way with nine of the 40 rebounds
CBC went 11-11 at the free throw line
The Mustangs improved to 10-2 in games where they are leading at halftime this season and recorded their first ever sweep of College of the Ozarks, moving to 2-10 all-time in contests against the Bobcats
The Mustangs hit 10 threes or more for the seventh time this season
CBC is on a record pace defensively, allowing just 63.8 points per game through 18 games, which would eclipse the previous best season by nearly three points per game (2020-21, 66.7 in 26 games)
NEXT UP
The Mustangs continue their road trip on Saturday when they wrap up the first half of AMC play with a trip to Harris-Stowe State. Tipoff from the Emerson Performance Center in St. Louis is scheduled for 3 p.m.