12 Apr 2023

Mustangs split with Comets on Senior Day

CONWAY – Playing on Saturday, April 4, at City of Colleges Park for the final time this season, Central Baptist College softball hosted the Comets of Cottey College in an American Midwest Conference doubleheader. Allison Wagle, Averie Ayers, Emily Cole, Heather Hoffman and Katie Smith were all honored before CBC (21-15, 9-3 AMC) split a doubleheader with CC (22-16, 10-2 AMC), dropping game one 7-4 before winning game two 9-8.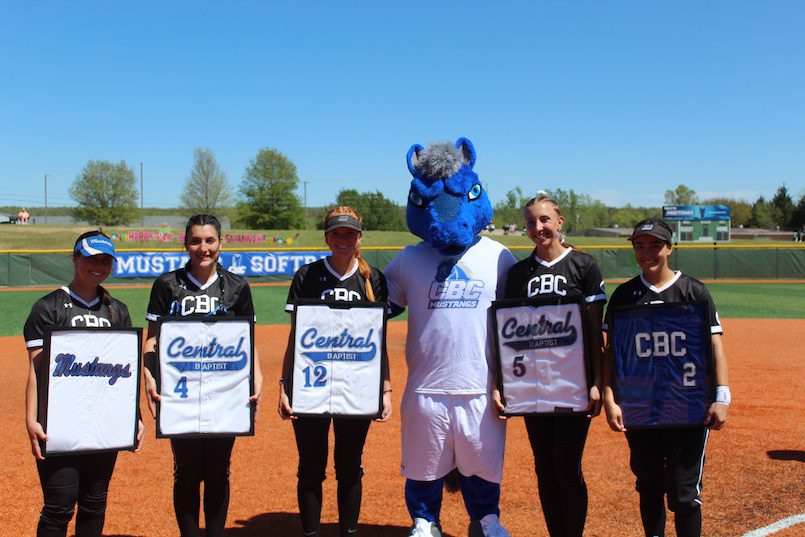 GAME ONE – COTTEY 7, CBC 4
Cottey got on the board first in game one, leading 1-0 after the top of the first, before Ayers tied the game with her first home run of the season, a solo shot to make it 1-1. Cottey would jump out to a 3-1 lead in the third and moved it to 5-1 in the fourth before Wagle homered in the bottom half to make it 5-2 after four. Wagle came through again in the fifth inning, driving in two with a double to make it 5-4 before Cottey added a couple unearned runs in the seventh to bring the score to its final margin. Gracie Keathley was great in relief for the Mustangs, throwing the final three-and-one-third innings and allowing just four hits and two unearned runs.
GAME TWO – CBC 9, COTTEY 8
The Mustangs went ahead in the first inning of game two courtesy of a double by Wagle. Cottey would tie the game in the third before CBC scored six times in the bottom half to make it 7-1 after three. Katie Smith cleared the bases with a triple to make it 4-1 and was followed by Lauren Anderson, who hit a two-run homer, her sixth of the season, to extend the lead to 6-1. Madeline Bruce made it 7-1 later in the inning with a double. Cottey would make it 7-3 in the fifth before Anderson launched her second home run of the game and seventh of the season to make it 8-3 in the fifth. Cottey would trim the lead down to 8-7 in the sixth before Smith drove in her fourth run of the game with a single to make it 9-7. Cottey would score a run in the eighth before Keathley came in and nailed down the first save of her career, retiring the only two batters she faced. Ayers picked up her eighth win, allowing eight hits and three runs with four walks and a strikeout in four-and-two-thirds innings.