23 Nov 2022

Mustangs drop conference game

Nevada, Mo. – Taking on new American Midwest Conference opponent Cottey College for the first time ever, Central Baptist College women's basketball was at Hinkhouse Center today looking to bounce back from a tough loss on Thursday night. CBC (2-2, 0-2 AMC) trailed 35-21 at the half and dropped their first meeting ever with Cottey (4-2, 1-1 AMC) 64-50.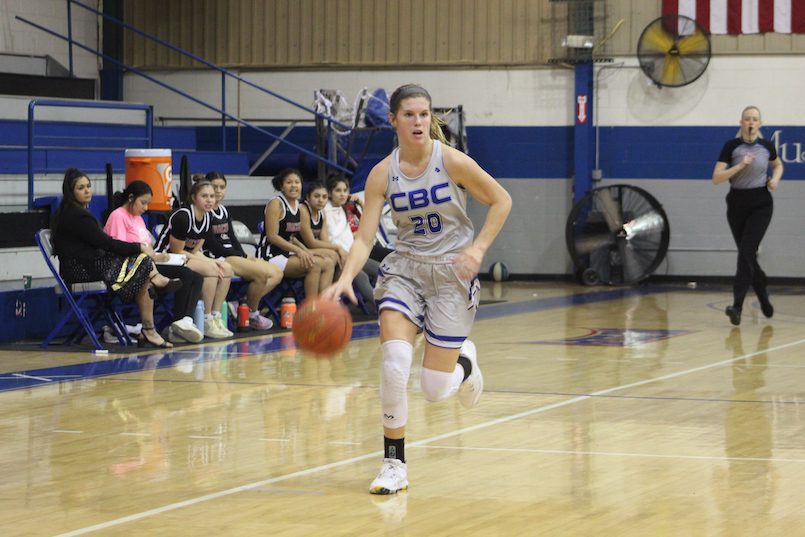 Caroline Citty and Rhys Anderson both finished in double figures with 13 and 10 points, respectively while Emma Bates grabbed a season-high eight rebounds. Field goal percentage was the key stat in the contest as CBC shot just 27 percent from the field while Cottey shot 47 percent. A bright spot was CBC grabbing 20 offensive rebounds.
The Lady Mustangs are off until Nov. 28 when they head to Muskogee, Okla., to take on Bacone. Tipoff is scheduled for 5:30 p.m.
Three individuals win at OBU duals
ARKADELPHIA— Wrestling for the first time in a week, Central Baptist College wrestling was on the mat today at the Sturgis Physical Education Center for a dual with Ouachita Baptist. CBC dropped the overall dual as a team 30-15 but got three match wins and an exhibition win as well.
David Corretjer won at 125 pounds, Alejandro Mas was victorious at 149 pounds and #20 Christian Richer also won his match at 165 pounds while Gregory Pierre-Louis won his exhibition match at 285 pounds. Corretjer pinned his opponent at the 4:20 mark, Mas pinned his opponent at the 2:20 mark, Richer won by a 5-2 decision and Pierre-Louis pinned his opponent at the 4:49 mark. Isaiah Hendrix (141), Guillermo Ramos (157) and Darron Harvey (285) also wrestled for CBC but lost their matches.
Next up for wrestling is a tri-dual on Dec. 10 in Montgomery, Ala., at Huntingdon College.