15 Nov

Mural project at residential care facility painted by Hendrix alum

CONWAY — An artist's recent 13-day residence in Conway yielded brighter surroundings on a grand scale for those living and working at a state residential care facility near the Hendrix College campus.

Emily Mente, a 2014 graduate of Hendrix and artist behind the Austin, Texas-based Studio Mente, arrived at the beginning of October to bring a delayed project to life at Conway Human Development Center (CHDC).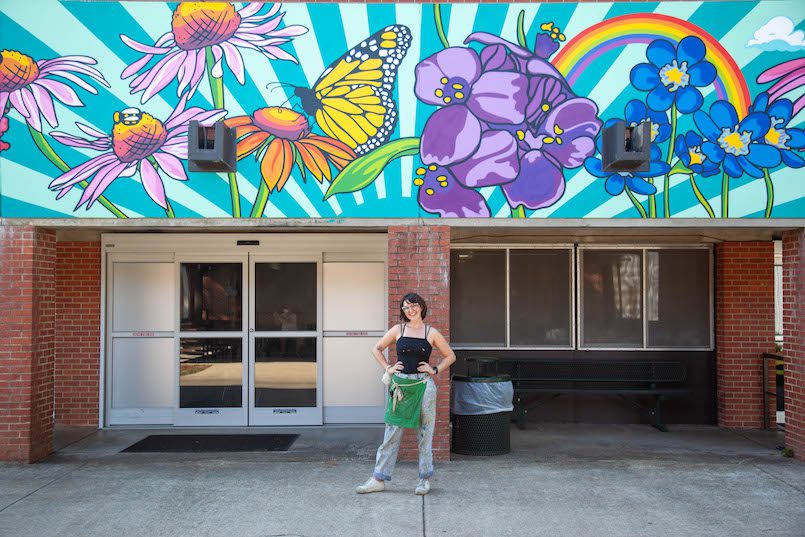 The three-panel mural at CHDC had originally been scheduled for completion as a 2020 Hendrix Summer Programs offering, but the coronavirus pandemic interfered. CHDC's desire for the mural outlasted that roadblock, though, so the center and its volunteer council reached back out to Mente in 2021 to push the project forward.
CHDC staff did the power washing and priming of the surface and prepared the teal background before Mente's arrival, enabling her to make the most of the 13 days, including the ability to recover the downtime created by a couple of rain systems that came through the area. CHDC also provided Mente with on-site housing during the project.
"We are overjoyed with the end result," said CHDC Superintendent Sarah Murphy. "The mural, which is above CHDC's 'snack shack' and below our chapel, has really brightened things up in the central part of our campus! We have heard so many positive remarks from our staff and many residents have shown their approval by gazing up and smiling as they pass by."
The seven-foot-tall triptych covers nearly 800 square-feet and required Mente to spend hours each day on scaffolding.
"It turned out to be a good thing that the original timing didn't work out, because the project was more ambitious than I had anticipated," Mente said. "I'm really glad to have had Hendrix students involved for that reason." Mente looks forward to using what she learned to create another project that can more easily engage high school students for a summer session in the future.
Mente also spent time across the interstate at Hendrix during her time in Conway, speaking with senior art majors and a beginning painting class about her full-time work as an artist. Three of those artists—Adaja Cooper '23, Michaela Thaibinh '23, and Jalache Davis '23—joined Mente on the scaffolding at CHDC for portions of the project.
"Emily was so sweet to work with and learn from," said Thaibinh, who spent two days working alongside Mente. "I learned a lot about the process of making murals, from start to finish. We talked about her experience as a working artist, and this gave me lots of ideas, suggestions, and insight about making art as a living."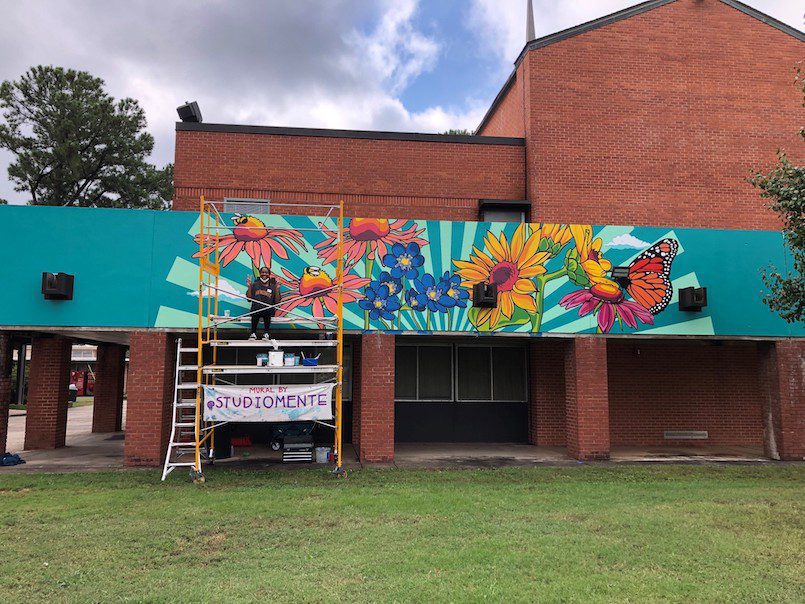 Funding for the mural came from the CHDC Volunteer Council, a nonprofit dedicated to meeting long-term needs of CHDC residents in addition to what the state budget covers. Their projects seek to improve overall quality of life for the residents and to increase community awareness of the needs and abilities of individuals who live at CHDC.
"The council includes a lot of relatives of the residents, and they are so dedicated to providing for not just their physical needs, but also things that brighten up their surroundings, like this mural does," Mente said. "It's visible from several other buildings on the CHDC campus, so even if a resident can't go outside, they can still enjoy it."
In the couple of months preceding her visit, Mente collaborated with members of the volunteer council to choose paint colors and refine the mural design. She worked to include native and native-inspired flowers in the designs, which also include butterflies and bees.
"This was such a good experience for us," said volunteer council member Jan Fortney. "Emily's enthusiasm about the project equaled our excitement. The mural is just perfect, and I've heard many positive comments about how it makes everyone's day better just walking past it."
Janice Hanlon, another volunteer council member, agreed that the work by Mente and the Hendrix students brightened up the CHDC campus. "I look forward to pointing out the flowers, rainbow, and butterflies to my son, Andy," she said.
Volunteer council member Deborah Rainwater said the best part about the mural's completion was seeing the reaction of her son Kirk, a 20-year-old CHDC resident who is non-verbal and autistic. "Kirk looked up at the mural and smiled so big," Rainwater said. "It was so precious to see that it made him so happy."