21 Mar 2022

Munchin on Main festival this Saturday in Morrilton

Posted at 7:37 PMh

in

News

MORRILTON – Presenting sponsor The City of Morrilton announces the full lineup of food trucks, entertainment, vendors, and attractions for Munchin on Main Street to be held 11 a.m. to 8 p.m. this Saturday, March 26 in downtown Morrilton.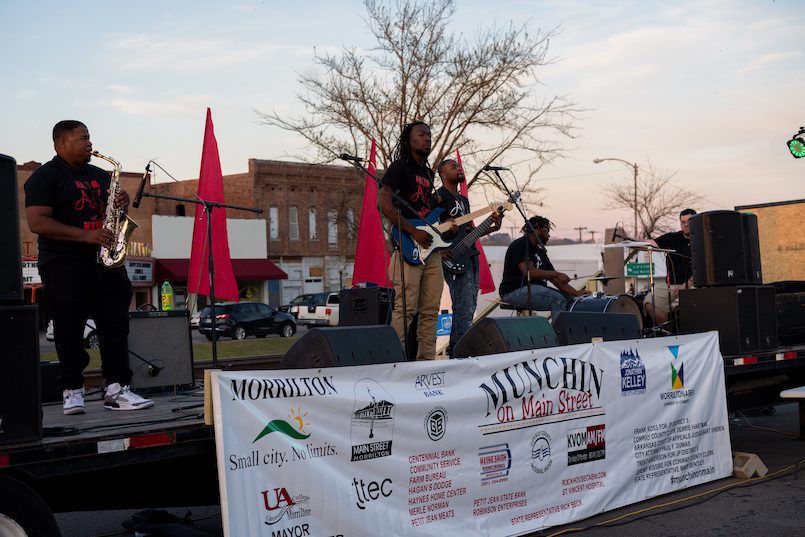 The festival committee is excited to welcome several returning favorites as well as a few new faces to the food truck lineup for 2022. The truck with the most sales for the day will be named "Favorite Food Truck" for the event. Food trucks include Jefferson's Mobile Grilling (returning 2019 champion), On The Spot, Pop Goes the Kernel Kettle Corn, Phonzie's 1Stop Hog Shop, Mackey's Catfish, Kingdom Made Treats, Mrs. B's Food Truck Express, Reggae Flavas, and K & M Catering.
The entertainment lineup includes headliner Akeem Kemp Band returning once again for a 6 to 8 p.m. performance. Other entertainers include Saint Cecilia at 11 a.m., Faith Thomas at noon, Xtreme Hip-Hop demo by 4K Nutrition's Natasha Lorraine at 1 p.m., Kordsmeier Music at 1:30 p.m., Mixxed Fit demo by Nu Styl Fit's Queena Valette at 2:30 p.m., Blueflower Skye at 3 p.m., Funk Fusion and Conway County Youth Club performance at 4 p.m., Some Guy Named Robb at 4:15 p.m., and Shannon Boshears at 4:45 p.m.
Festival-goers will see a change in children's activities this year as the committee opted to scale back this section of the event due to the increase of Covid-19 transmission rates during the early planning stages. Kids can still look forward to smaller activities free of charge hosted by local civic groups, but the large attractions such as rides and bounce houses will not be included in the kids' section this year. However, thanks to generous sponsors, laser tag will now be free to all who attend.
Confirmed vendors for the pop-up market include Ron's Airbrush, Brooklyn's Beverage Express, Rock 'n Toys, Kut It Out Keepsakes By Trina, The Handcrafted Peddler, Tupperware, Onpoint Bling, 4K Nutrition, and Sacred Heart CYM. Those attending and providing a free children's activity or service for parents include The CALL of Conway/Faulkner County, Conway County DHS, Children's Advocacy Alliance, TMH Spirit Center LLC, WoodmenLife Arkansas Chapter 1422, Petit Jean Garden Club, Tree City Morrilton, and Conway County Extension Homemakers. Kaila Parker with Love Every Body Nutrition Counseling will host a complimentary parenting station for nursing, feeding, and changing little ones.
Point Remove Brewing Company and the Southern Sippery Mobile Bar have partnered to host this year's beer and wine garden. Festival-goers over age 21 can enjoy a selection of beer and wine throughout the event. A portion of the proceeds benefit Main Street Morrilton.
The Big Cuppa crew is hosting a Baggo tournament. The grand prize of a custom Baggo board is sponsored by My Plan Store with other prizes courtesy of Big Cuppa. Sign-ups are live now at mainstreetmorrilton.org/munchin-on-main.
The planning committee continues to solicit volunteers for the event. Anyone interested can sign up on the Main Street website.
To help minimize transmission of COVID-19, guests are encouraged to bring their own chair, sanitize often, and distance themselves from others where possible. The planning committee is working to provide multiple sanitizing stations throughout the event and will have volunteers dedicated to cleaning tables and chairs.
For more information or to help sponsor the event, follow Main Street Morrilton on Facebook, or contact the event committee at [email protected].