09 Feb 2022

Multi-talented Hooten striving for basketball championship

By Levi Gilbert

Taylor Jo Hooten has helped continue a legacy of athletic success at Quitman. Entering her senior season as a three-year starter at point guard, Taylor Jo helped lead Quitman to a 91-16 overall record the past three years, which also included a state championship appearance and two other 2A quarterfinals appearances.

But for Taylor Jo and the Quitman Lady Bulldogs (22-3, 14-2), there's still one goal left to accomplish in her final run.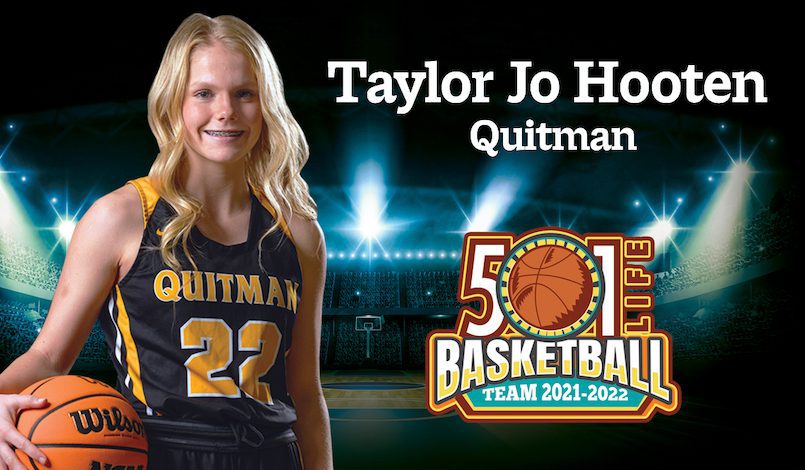 "Our goal this season is to become the 2A basketball state champions," Taylor Jo Hooten said. "To do this, we plan to stick with what we know, work hard and play as a team. Every time we step onto the court, we know that we are undersized and don't have the height the other teams have, so as a team, we constantly have to be prepared for that and understand how we are going to handle the situation."
Taylor Jo was selected to this year's 501 Basketball Team — 40 players representing the best the 501 has to offer both on and off the court. The team is sponsored by Velda Luders of Coldwell Banker RPM Group, Moix Equipment and Toy Company, Conway Regional Health System and First Security Bank. The senior was nominated by Timothy Hooten, her father and head coach.
"She's an excellent 3-point shooter and also a great drive guard," Timothy said. "If you watch her play, you will see she is the floor general and has a great knowledge of the game. She's also a tremendous defensive player as she has shut down the supposedly best guards in the conference. She was Quitman's No. 1 3-point shooter last season and leading scorer. She also led the team in assist and steals and was second on the team in rebounding.
"Because of Quitman's philosophy in playing basketball, I feel our players are often overlooked because they don't have the big stats of some of the other girls in our conference — girls that when they play against Quitman are shut down. I personally feel Taylor is the best player in the area as every team we play will face guard her to shut her down. Most have failed."
With her father as a high school basketball coach, the sport has unsurprisingly played a larger part in her life, and the lives of her family as a whole.
"I've really grown up with it just surrounding my life," Taylor Jo said. "My friends like to joke around saying, 'I was born in the gym.' One of my favorite things about playing basketball is the impact I have on all the little girls who watch from the sidelines. I love coming off the court and am instantly surrounded by five or six little girls that I have known through coaching them."
In addition to be named all-conference in basketball the last three years, Taylor Jo is also gifted in many other sports for Quitman. She is an all-state setter in volleyball, a three-time all-state selection in cross country and an all-state selection in four events in track. She also plays catcher on the softball team. She's also active in Future Farmers of America and Beta Club.
"There is rarely a time when I am not doing something in the athletic field whether it be training or playing, but if I don't have a game, I like to go on runs with my dog," Taylor Jo said. "I also show sheep and cattle through my FFA and 4H chapter, where I spend a tremendous amount of time training and working with those animals. I also spend a lot of time training and coaching little kids in many different sports all depending on what they are interested in. I am also at the top of my class in academics and like to read books when not able to do one of my other activities."
Quitman closes out the regular season playing host to Mt. Vernon-Enola in 2A-5 conference play at 5 p.m. Friday, Feb. 11.

Latest posts by Levi GIlbert
(see all)