28 Feb 2023

Much goes right with the play that goes wrong

In August 2022, the Searcy Summer Dinner Theatre, which is presented by the Department of Theatre at Harding University, premiered "The Play That Goes Wrong." BroadwayWorld Arkansas nominated the production for seven awards, and it received five in January, including best play overall. The awards represent excellence in professional, educational and community theaters across the region.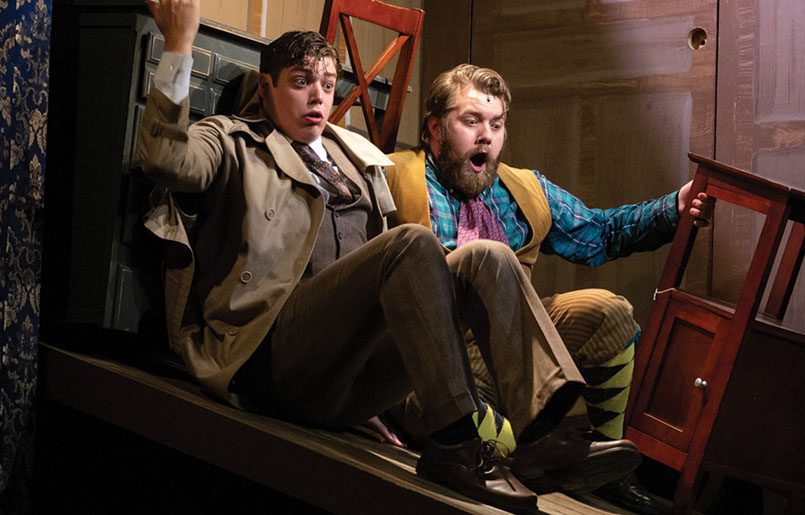 "The Play That Goes Wrong" is a comedic murder mystery set in the 1920s. The characters attempt to perform an embedded story — a play-within-a-play — called "The Murder at Haversham Manor." Mayhem breaks across the set as characters misplace props, set pieces break and the actors break character. It creates a fun, engaging atmosphere in which the audience participates.
"It is an honor to be nominated, and a joy to win," said Dr. Steven Frye, professor of theatre and department chair at Harding. "It speaks to the quality of our patrons, our productions, and most of all, to the creative talent of our people who constantly prove that theatre is alive and well in Searcy at Harding University."
In addition to his teaching duties, Frye has produced and directed Searcy Summer Dinner Theatre productions for 29 years. For 28 years, he has also been Director of Spring Sing, an annual musical revue involving more than 1,000 students. An award-winning teacher, playwright, director and producer with extensive experience in live theater, film and video, Frye is excited to create art and entertainment for the region.
"Working in a summer-stock environment generally means an accelerated rehearsal schedule," Frye said. "In terms of Searcy Summer Dinner Theatre, that often means three or four weeks of rehearsal before the performance. With "The Play That Goes Wrong," we stretched that to five weeks to allow more time for our tech crew and actors to work with the 'fall apart' nature of the set. Things fall off walls, doors come off hinges, a second-story landing collapses, things catch fire and props break at the worst possible time. It becomes an exercise in choreographed chaos."
Senior Asher Patten, who won the award for best performer in a play, reflects on the joy that the production brought, both from performing with his fellow cast members and from feeling the audience's energy.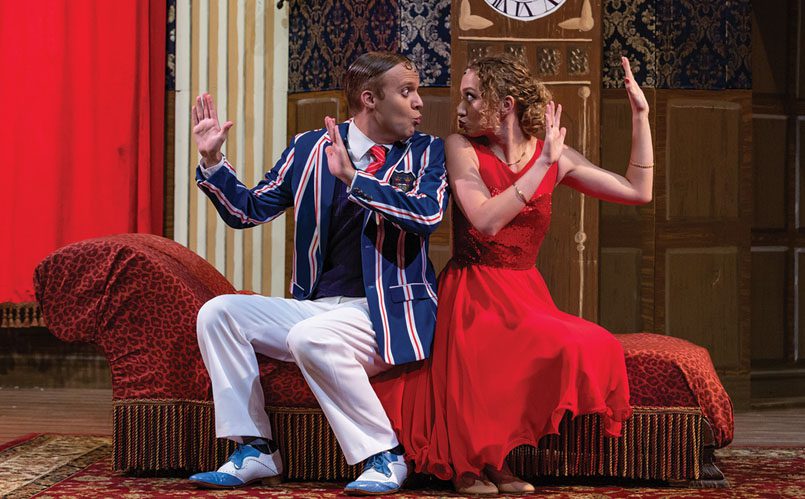 "It was one of the most fun experiences I have had on any set or stage, and our cast was so full of spirit and fun," Patten said. "We genuinely had a blast being together for the whole summer. When the show opened, each night was different as the audience would respond to different bits uniquely, and it would sort of shift the energy, or our reaction to things, in the moment. It just felt like a really fun improv exercise with a script as a guideline. It was so great, and I'll never forget it."
Harding University has a robust theater program because of the generosity of donors. One significant donor was Mary K. Murphy, who was a regular patron for several years. After she died in 2002, her son, Dr. Charles Murphy, informed the university that Mrs. Murphy included a bequest to permanently endow Searcy Summer Dinner Theatre because of her love for Harding and the summer performances.
"The Mary K. Murphy Endowment is an amazing example of the servant hearts of our patrons," Frye said. "Mrs. Murphy's generous gift annually provides equipment, costumes and many other things that allow us to keep the overall ticket cost down for such high-quality productions. Searcy is our home, and we are honored that patrons like Mary K. Murphy and her family support what we strive to bring to our home each year."