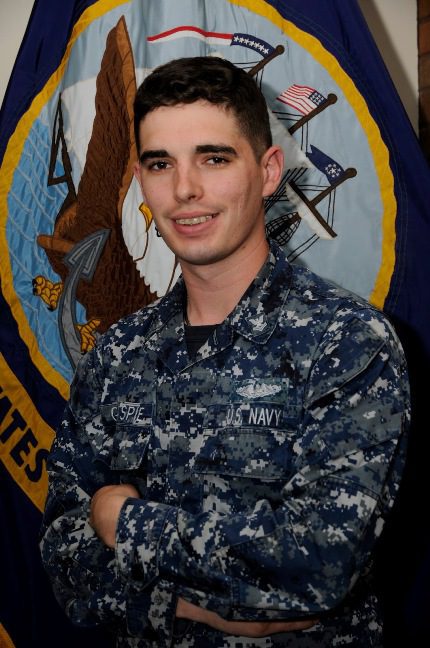 24 May 2017

Mount Vernon native supports Navy's subs

Posted at 9:59 AMh

in

News

by Petty Officer 1st Class James H. Green,
Navy Office of Community Outreach


A Mount Vernon native is serving aboard the homeport for U.S. Atlantic Fleet's ballistic missile nuclear submarines.


Petty Officer 2nd Class Stephen Gillaspie, a 2008 Mount Vernon-Enola High School graduate and a navigation electronics technician, is responsible for supporting the strategic assets on the boat by developing and executing the navigation plan for the ship's missions.


"I love developing the navigation plan," said Gillaspie. "It's a great feeling knowing the ship is carrying out a plan that you developed."


The mission at Naval Submarine Base Kings Bay is to provide support to the fleet, fighter and family, according to Navy officials. It is the state-of-the-art home to the Atlantic Fleet's Trident submarines and serves as an integral part of the nation's strategic deterrence program.


The Navy's ballistic missile submarines, often referred to as "boomers," serve as undetectable launch platforms for ballistic missiles. They are designed specifically for stealth, extended patrols and the precise delivery of missiles, and they are the only survivable leg of the nation's strategic nuclear forces, which also include land-based missiles and aircraft. The Ohio-class design allows the submarines to operate for 15 or more years between major overhauls.


Gillaspie and other sailors know they are part of a legacy supporting the Navy's most advanced submarines.


"We demand the highest standards from our sailors – both professionally and personally," said Rear Adm. Randy Crites, commander, Submarine Group 10 in Kings Bay. "Their chain of command, family and our great nation take immense pride in their devotion and service. These sailors are absolutely crucial to ensuring our ships and submarines are operating at their best – always mission ready, providing our nation with the greatest Navy the world has ever known. I'm so very proud these sailors are on our team."


"I like how being here gives you a different perspective," said Gillaspie. "Here you get more of a behind the scenes view, which completes the picture."


Serving in the Navy, Gillaspie is learning about leadership and managing multiple responsibilities.


"Serving in the Navy has made me more responsible and provided me with financial security," said Gillaspie.