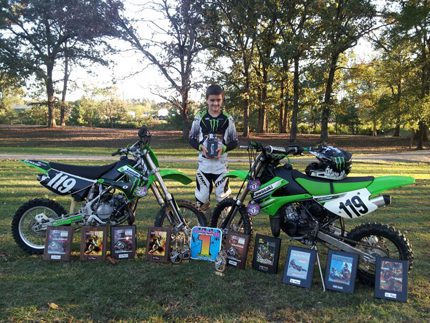 21 Sep

Motocross bloodlines

by Donna Lampkin Stephens

Motocross is all in the family for the Keetons, Reels and Crees of Morrilton.

This gets complicated, but stay with us: Scott Keeton and Nathan Reel married sisters, the former Jessica and Danielle Cree, respectively. Scott and Nathan grew up riding four-wheelers for fun, but their sons, Westin Keeton, 8, and Kase Reel, 14, have taken that love for speed as well as a daredevil streak a bit further. In their fourth year of competition, they are among the state's leading motocross athletes.

"They say motocross and rugby are more strenuous than any other sport out there," Scott said. "Riding and handling the bike keep them in shape."

Kase said fitness and strength were the keys to their success. According to dictionary.com, motocross is motorcycle racing on closed courses consisting of a winding dirt trail with hills, jumps, sharp turns and often muddy terrain.

"They're both pretty dominant," Scott said. "They're in the top two or three riders in the state of Arkansas. Last year Westin won every race in 4-6 (age division). This year we've been over to Oklahoma, and he's won just about every race 7-9. He's finished third and fourth in one or two due to a wreck or something. And Kase has been good as well."

The families — the boys, their parents, sisters and grandparents — travel around the state, from Magnolia to Pine Bluff, Maumelle, Heber Springs, Caulksville and even beyond the Arkansas border, generally every other weekend from February through November, in pursuit of points and prizes for the various motocross series. They grill and picnic and root on the racers.

"We're a pretty close-knit family," Scott said. Motocross racers compete by age and size of motor.

Age divisions begin at 4 and go to over 50; bikes go from 50 to 450 cc. There are also professional divisions. In the Razorback MX series standings at press time, Westin Keeton led the 50 cc Open division by one point and was second in 50 cc age 7-9 by a point. He was also second in the 65 cc 6-8 division.

"I just bought him a new bike (the 65 cc) a month ago and he's won every race on it," Scott Keeton said. "He'll probably outgrow the 50 weight-wise before he ages out."

Kase led the 85 cc 12-16 by one point and was tied for sixth in the 85 cc Open division. Nathan Reel said his son wanted a dirt bike for Christmas several years ago and "got to riding it pretty fast." When Kase saw motocross races on television, he was intrigued, and his father bought him a racing bike.

"We went to our first race, and that's how he started," Nathan said. "He was 8 or 9."

Westin started riding at 4.
"We practiced and I entered him in one, and he's been hooked ever since," Scott said.
Westin, who rides a Cobra, is sponsored by Shaw Power Sports (a Cobra dealer), C&K Motorsports and Westside Compound Motorsports. Kase is sponsored by Westside Compound Motorsports and C&K Motorsports.
"They help on bike repairs and fuel costs," Nathan said.
The fathers, who do most of the maintenance, said they considered motocross to be their sons' sport of choice. Their daughters, on the other hand, are softball players.
"If he doesn't want to do it tomorrow, that's fine," said Scott, who coaches daughter Wyleigh's softball team. "But right now he wants to do dirt bikes. That's his sport. It's very, very expensive, with the fuel and the cost of the bikes, the maintenance — the rebuilding motors, tire changes. But he enjoys it."
Westin, a second-grader, said the best part of dirt bike racing was "just riding and the jumps." He and Kase practice several times a week at the track his father built near their home. Scott said he'd put together a small track, a 100-yard oval with some jumps.
"The little guys race on the same tracks as the big guys," Scott said. "Some of the ruts get knee-deep, and it makes it hard for the little guys at some places. Westin is hitting some jumps 40 to 50 feet in the air."
Westin has taken his trophies and medals to school for show and tell, and Scott took the bike. Shaw Power Sports sent T-shirts to his class. Nathan said Kase, a freshman at Morrilton High School, earned a Go Pro camera last year along with plaques and trophies. Kase called racing his favorite activity.
"Any time I have time off, that's what I want to do,' he said. "I just like the jumping and the rollers."
The cousins play on four-wheelers for fun, Kase said, adding that he hoped to be a professional motocross racer one day. Along with the enjoyment and adrenaline comes an awareness of potential danger, though. Kase admitted to being scared at times, "but most of the time I'm not." About $800 worth of protective equipment, including neck braces, boots, helmets and elbow and knee pads, help calm the parents' nerves.
Nathan added: "You've got to overcome your fears of getting hot and speed. When you go into a jump, you've got to have confidence in yourself you can do it. I'm nervous for him, but you can overprotect."
Perhaps the biggest obstacle on the immediat
e horizon will come when Nathan becomes interested in girls.
"That's what a buddy of mine was saying — when he gets to be 14 or 15, the dirt biking might ease up," Nathan said, chuckling. "I don't make my kids do anything, just 100 percent at whatever they do. I'm not going to push you into doing something you don't want to do.
"If he doesn't want to ride, we'll go camping."