26 Apr 2020

Mothers keep on giving

by Don Bingham

Many of us recall the old timeless song "M-is-for-the-many-things-she-gave-me", which continues to spell the word "Mother." Never was there more true lyrics! One grand example of this in the 501 area is that of Bettye Davis Ricard.

Perhaps many of you have not met Bettye Ricard, but if we told you she was the mother of the popular lyric soprano soloist Suzanne Banister and the mother-in-law of local dentist Dr. Brad Banister, you might be more acquainted with this local resident and mom.

Bettye is a native of Denham Springs, La., and was married to Frank Johyn Ricard. Both Frank and Bettye were educators in the Jennings, La., Public School System in elementary education and in the high school music program. The Ricards also owned and operated a florist shop, "Floral Arts," for 15 years. They have three children — a daughter in Houston, Texas, a son in Shreveport, La., and Suzanne Banister of Conway.

This is where the story gets more interesting! Among many things, Suzanne is a vocal instructor at the University of Central Arkansas and Central Baptist College. Her mom, Bettye, now makes her home in Conway. Bettye expresses that "apartment living is a new experience for me but I have come to enjoy life here and have met some wonderful friends — along with the friends that we met when Frank and I were here many years ago."

In a conversation with her mom, Suzanne mentioned she would be going home that day for a peanut butter sandwich for lunch. The statement began a regular weekday time of friendship and encouragement from Bettye — a continual giving to her adult daughter each Thursday of the week. What was meant to be a simple lunch turned into an elaborate presentation of an amazing array of tried-and-true recipe favorites originating from the family heritage of Louisiana cooking and church potluck favorite gems! Not only are the menus a delightful experience for Brad and Suzanne, but occasionally others will join from out of town, such as Elizabeth Banister, Brad and Suzanne's daughter.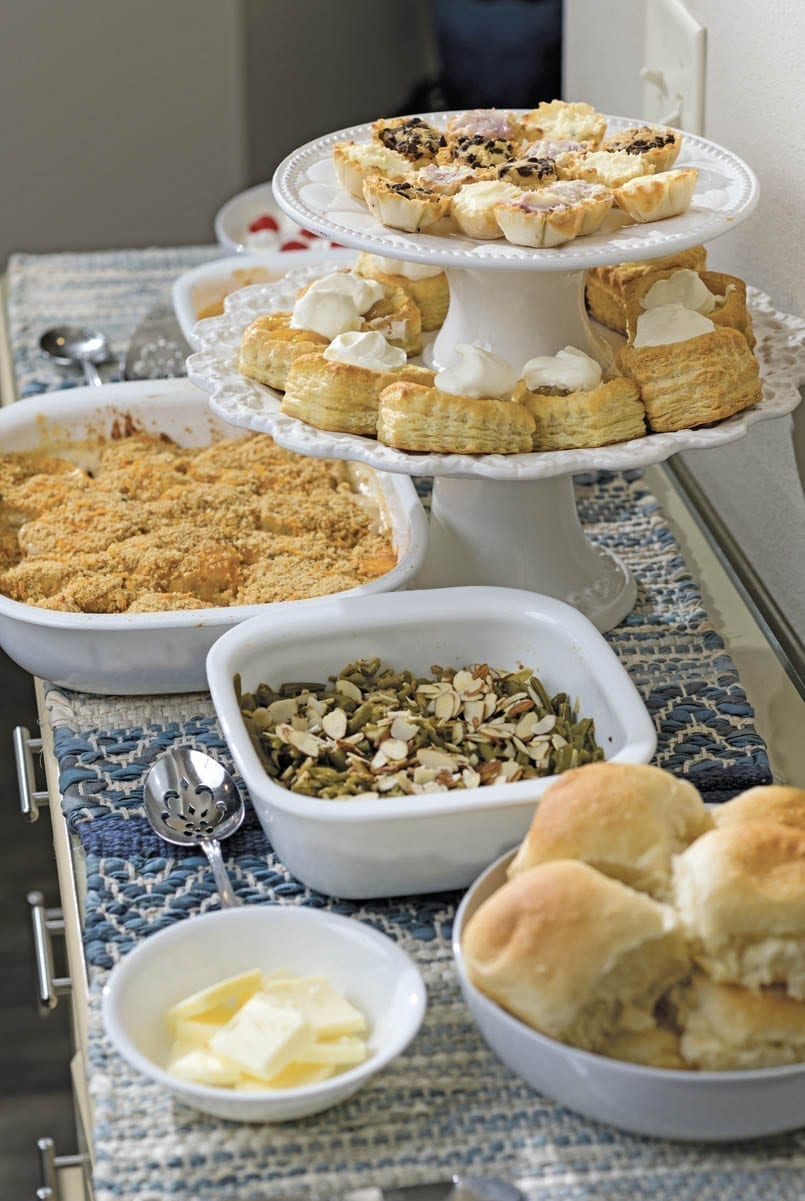 There are many of us who have "geared down" and given away collected family treasures we have garnered through the years. Suzanne and her sister were recipients of sets of dishes that were packed in a box and placed in the attic. For these lunches, Suzanne retrieved the dishes and returned them to her mom for the Thursday luncheons! Suzanne also began to post the menus and pictures of the food, dishes and floral art on Facebook.
What a delight! Moms are always giving back in so many ways! Bettye shared with us that "it has been fun planning meals and decorating my table each week — especially in this time of confinement!"
Hard times may come and go — yet we will always be thankful for our moms!
Reveler's Chicken
4 chicken breast fillets
1 can mushroom soup
2 tablespoons sour cream
Mozzarella cheese
Breadcrumbs
Slivered almonds
Butter
Salt and pepper
Sauté chicken in butter, seasoned with salt and pepper; put into baking dish. Mix mushroom soup and sour cream; put on top of chicken. Sprinkle cheese on top, then breadcrumbs and almonds. Bake at 350 degrees for 20 minutes.
Bread Pudding
2 cups cubed bread
2 cups scalded milk
1/4 cup butter
2 eggs
1/2 cup sugar
Pinch of salt
1 teaspoon vanilla
Beat eggs, salt, sugar, butter and vanilla; add milk. Put bread cubes in a greased casserole dish; pour milk mixture over the bread cubes. Optional: add sliced apples, coconut or pecans.
Sauce
1 cup sugar
1 can Pet evaporated milk
1 1/2 teaspoons cornstarch
3 tablespoons butter
1 teaspoon vanilla
Cook over medium heat, stirring until thickened; pour over bread pudding and serve warm.
Mexican Casserole
2 cans crescent dough sheets
1 lb. ground sirloin meat
1 package taco seasoning
1 can yellow corn
1 can black beans
1 cup salsa
4 oz. sour cream
1 cup Mexican cheese
Grease a casserole dish. Press part of the dough on the bottom for the crust; bake for 10 minutes until browned.
Brown the meat and drain; add the seasonings, corn, beans, salsa and sour cream; cook on medium heat. Pour onto crust. Sprinkle cheese on top of beef mixture.
Cut the remaining crescent dough into strips and form a lattice on the top of the casserole. Bake for 15 minutes at 375 degrees until browned.
Pork Chop Casserole
4 boneless pork chops
1 can mushroom soup
1 can Pet evaporated milk
3 russet potatoes, sliced
Brown the pork chops; put into a casserole dish. Mix the soup and Pet milk. Put sliced potatoes on top of the meat, and the soup mixture on top of the potatoes. Bake, covered, for 20 minutes at 350 degrees, then uncovered for 15 minutes.
Shrimp Creole
Roux
2 large cans tomato sauce
1 package celery, cut up fine
1 onion, cut up fine
1 green bell pepper, cut up fine
Water
Medium shrimp, peeled and deveined
Salt and pepper (black and red)
Make a roux with 1/2 cup flour and 1/2 cup oil; cook until browned on medium heat, stirring. Sauté vegetables until tender; add tomato sauce and seasonings. Cook 1 1/2 hours on medium heat, stirring; add water if too thick. Add shrimp and cook an additional 15 minutes, until shrimp is done. Serve over rice.
Cream Cheese Corn
6 oz. cream cheese, cubed
1/4 cup unsalted butter
3 cloves of garlic, minced
1/3 cup milk
2 cups frozen corn
Kosher salt and black pepper to taste
1 cup shredded cheddar cheese
2 tablespoons chopped parsley leaves for garnish
Preheat oven to 375 degrees. Oil a 9-inch dish or coat with non-stick spray. Combine cream cheese, butter and garlic in a medium saucepan over medium heat. Stir in milk until smooth, about 2 minutes. Stir in corn, salt and pepper. Spread mixture into baking dish and sprinkle with cheese. Place in oven and bake until bubbly, about 15-17 minutes. Garnish with parsley.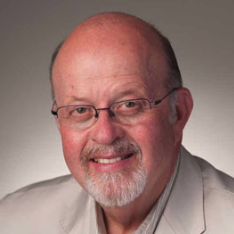 Latest posts by Don Bingham
(see all)