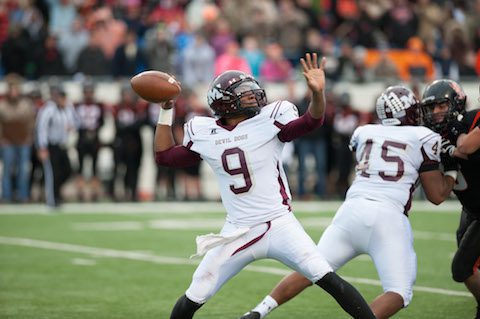 16 Dec 2013

Morrilton wins state football title; Cabot falls short

by Levi Gilbert


The Morrilton Devil Dogs capped an unbelievable season with a win over Batesville, 27-24, Saturday in the 5A state championship game.

Senior receiver Reese Heidenreich — a 2013 501 Football Team honoree — played an integral part in Morrilton's success all season and in the championship game.


"I knew it was my last game as a Devil Dog, and I did not want to leave the field with any regrets," Heidenreich said. "I told myself I would leave it all on the field, and I think I did just that."


Heidenreich pulled in five receptions for 96 yards and two touchdowns. He also recorded nine tackles. The Devil Dogs took a 14-7 lead over Batesville into halftime, but the Pioneers struck first in the third quarter to even things up. The Devil Dogs struck back with Heidenreich's first touchdown reception late in the third quarter.


Batesville countered with a field goal, and the Devil Dogs' next score came off Heidenreich's second touchdown reception, giving Morrilton a 27-17 with about six minutes left in the game.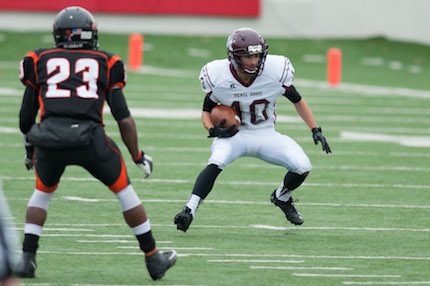 "Making that catch in the back of the end zone in the third quarter will always run through my mind," Heidenreich said. "Honestly, I do not know if there was a true turning point in this game. It was a pretty back-and-forth ball game for the most part. But when our defense was able to hold them to a field goal earlier in the game, it turned out to make a huge difference."

Batesville scored with three minutes left in the game to pull within a field goal, 27-24, and the Pioneers had a chance to tie at the wire, but missed wide left as time expired.

The win gave Morrilton (12-2) its first football championship in 40 years.

"Being able to be a part of the team that brought the trophy back to our hometown allows us to go down in history," Heidenreich said. "Our fans support us so much, and I'm glad that we could bring home the trophy to our community. We play as one unit. This year we have really focused on not being selfish and playing for the team, and I think that is what helped us against Batesville. We had each other's backs and stuck together throughout the game."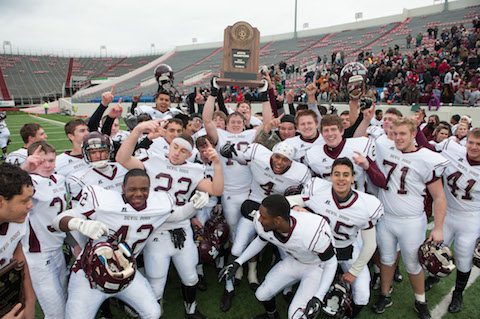 Toney Hawkins was 14-of-21 passing for 268 yards and three touchdowns. Hawkins also rushed for 69 yards and a score. Rayshod Criswell caught seven pass for 122 yards and a touchdown. Trey Blakley led the Devil Dogs defensively with 11 tackles.

Previous 501 Football Team honorees from Morrilton were full of pride for their former teammates.

"Seeing this year's team achieve a State Championship is something that makes everyone around Conway County excited," said Gilberto Garcia, a freshman offensive lineman at the University of Central Arkansas and 2012 501 Football Team member. "It's something that hadn't been accomplished since 1973 and was made possible with an amazing coaching staff and a group of hard working and dedicated players. They make everyone proud to be a Devil Dog!"
"It means the world," said Forrest Been, a 2011 501 Footall Team member. "I'm so proud of the players and coaches. I played by just about every single one of their sides, and they always have their all. The coaches give countless hours dedicated to the players to help them become better as an individual and a team.
"Words can't describe how excited I am for the seniors. They had a great high school career, and I pray that the other classes to come have just as great a season as well as the coaches. I'd kill to be back on that field and wear that No. 2 Devil Dog jersey, but we all have to move on in life at some point so that other young men can experience that Friday night feeling and big win."
What's next for Heidenreich?

"After Christmas break I will start baseball," he said. "I'm looking forward to a successful year of baseball as well."

The Cabot Panthers and 501 Football Team member Jake Vaughan fell to Bentonville in the 7A state championship, 39-28.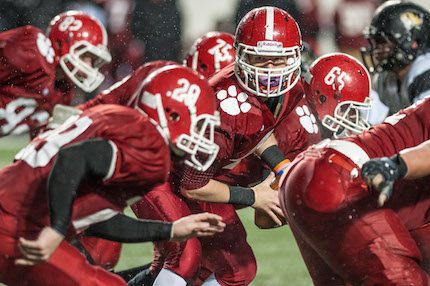 One 501 team is still alive in its pursuit of a championship. Glen Rose takes on Charleston for the 3A championship at 6:30 p.m. Saturday.