02 Sep

Morrilton coffee shop is pouring a 'Big Cuppa' community

By Morgan Zimmerman

When the Krutz family set out to open a coffee shop in downtown Morrilton in 2017, roasting their own coffee seemed like a distant dream. They opened Big Cuppa in March, and almost immediately, it lived up to its tagline as "Morrilton's Place." The little yellow shop in downtown Morrilton started out serving a small menu of beverages featuring Arkansas coffees. Now, just four short years later, they have a large menu, including food and specialty drinks made with their house–roasted coffee beans. But they aren't just making coffee, they are making a community.
Big Cuppa is a family business. Jaime and Marty Krutz were on a mission to give Morrilton a central connecting spot. Their oldest son, Joe, had been in the coffee industry for years, working his way up into management for some well–known franchises. He happened to be at a crossroad in his career when the offer came from his parents to join their venture. Joe is Big Cuppa's resident coffee expert and a Specialty Coffee Association (SCA) certified roaster. His wife, Danielle, also jumped on board, and she is now the creative mind behind the coffee shop's food menu, including house–made baked goods, seasonal soups, sandwiches, and flavored syrups. You'll also find the Krutzes' other son, Austin, working tech behind the scenes and daughter, Arden, behind the bar from time to time.
According to Jaime, Morrilton immediately bought into their mission of promoting community pride and creating a place for new shared experiences. Roasting their own coffee was a part of the five–year plan for Big Cuppa, but Jaime said, "With the overwhelming support from the local community, we were able to hit goals sooner than expected and to take risks like investing in the new side of our business." They purchased the roaster in year two.
Joe traveled to Minnesota for the SCA's Certified Entrepreneurial Coffee Roasting Course with Mill City Coffee Roasters, which sets the standard for quality across the industry. Having experimented with extraction methods in his free time, Joe said that being able to expand into the sensory side was appealing.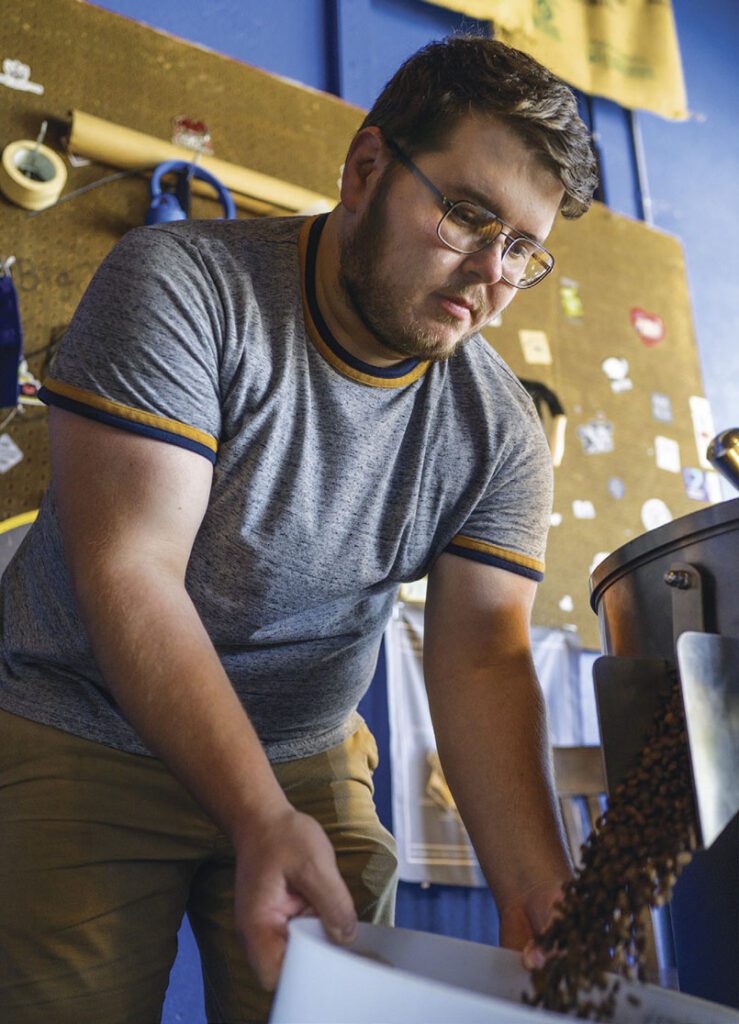 Big Cuppa produces 250 to 350 pounds of roasted coffee a week in a natural gas roaster. It takes 15 minutes to roast 6 pounds of coffee. The Krutz family carefully selects importers who share more of the profit with farmers, and about 30 percent of their beans are purchased from them. The rest of their beans are sourced through a partnership with Blue Sail Coffee (Conway) and a Brazilian family that enables the farmers to sell in larger quantities.
Their core blends are the light house roast named Broadway Blend after their street address and the medium, espresso blend Spro'Town. The Spro'Town name is a nod to their hometown, which is often referred to by locals as "Motown." The menu also includes a few single–origin coffees, meaning they are a single bean that is not blended with other coffee. These are Midnight on Broadway, Mexico, and the house decaf, which is created using the Swiss Water Process, which means it is washed without any harsh chemicals.
The coffee house is also known for its collaborations with other companies throughout the 501. It has produced several limited–release, bourbon barrel aged coffees made with barrels from Rock Town Distillery in Little Rock. Its coffee has been featured in Flyway Brewing's (North Little Rock) annual limited release Coffee Cake Stout and was also recently used by Point Remove Brewing Co. (Morrilton) for its limited release coffee stout.
For Joe, it's all about the collaboration. He says that's what he loves about living and running a business in the 501. "Everyone is connected in some small way, and everyone knows a little about something that can be shared," he said. "You can be out somewhere and make a random connection that will lead to an awesome opportunity for collaboration."
Jaime added to that sentiment, "Watching Morrilton grow from within Big Cuppa has been fascinating. We've witnessed people picking up their coffee and making a connection they wouldn't normally have made, and it leads to new opportunities for building business, community, volunteerism, and friendship."