24 Dec 2013

Morrilton celebrates state title

The Morrilton Devil Dog football team was honored last week with a parade and celebrated at a community-wide pep assembly in recognition of its Class 5A state championship.

The Morrilton Devil Dogs capped an unbelievable season with a win over Batesville, 27-24, in the 5A state championship game. The win gave Morrilton (12-2) its first football championship in 40 years.


On Friday, the parade began at the former Cogswell Motors parking lot and continued on Harding Street to Devil Dog Drive and the football stadium. The parade was led by local law enforcement and Med-Tech EMS. Morrilton High Principal Danny Ketcherside followed on his motorcycle, with the Devil Dog mascot.


Two flat-bed tractor-trailers carried the members of the football team, followed by the band. MHS cheerleaders and dance team rode on a City of Morrilton fire truck.


Adults and young people lined the parade route, many dressed in school colors and carrying balloons and signs with congratulatory messages.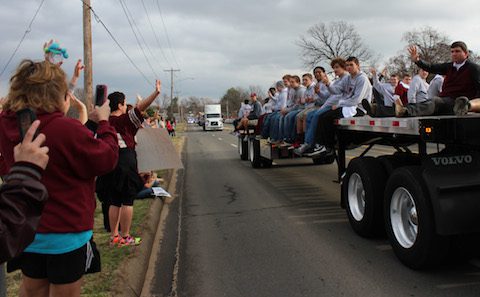 A community trophy presentation followed the parade at Devil Dog Stadium.

"This team has worked extremely hard to bring this trophy back to Morrilton," said head coach Cody McNabb, who presented the trophy to the school principal.

The assembly included a proclamation read by County Judge Jimmy Hart and Mayor Stewart Nelson naming Friday, Dec. 20, as "Morrilton Devil Dog 2013 5A State Championship Day."
Devil Dog pride was evident throughout the city as businesses posted celebratory messages on marquees and displayed balloons in the school colors.
(See more photos from the state championship game and the community pep assembly in the February edition of 501 LIFE.)