26 Apr

More than enough with HIM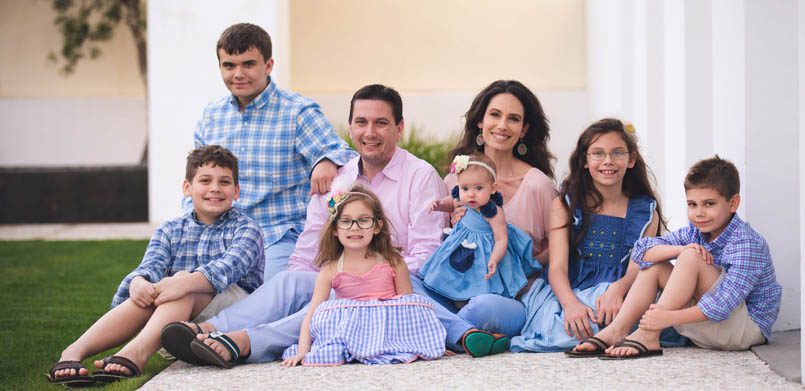 by Angie Howard
Contemplate accepting an employment position with a benefits package comprised of the following: 
No sick leave; no vacation time; on-call 24/7. Wages for services rendered are certainly non-traditional and include a currency of hugs, smiles, slobbery kisses, a few gray hairs, some stretch marks thrown in for good measure and are sprinkled with the occasional bonus of heartfelt hand-drawn Crayola pictures and yard weed bouquets.   
Once the applicant has chosen to assume this position, there is no quitting or retirement opportunity, ever. You are not even assured regular bathroom breaks as your subordinates tend to follow closely behind you and stick their hands, noses and toes under any closed doors separating you from them to make certain you are not planning to defect.
Little do those apprentices under your care know, as long as the hours and days are, the years are incredibly short. The on-duty all nights are actually missed when that particular season of the job ends, and no matter how hard any given day, week, month may be, the holder of this career title would never, ever choose to retire or quit.
Those called to accept these terms are moms.
It's so much more than a job; it's a calling and a passion and an absolute blessing. 
But don't forget the obvious. It. Is. Hard. Being Momma is difficult, and that's a large part of what makes it so beautiful.
We mend clothing, stuffed animals, furniture, hurt feelings, scraped knees and sibling relationships; we enforce discipline; pull all-night shifts; Uber everybody everywhere and back again. We spend the first two years teaching the non-verbal to speak up and then spend the next 16-plus years reprimanding them when they are so inclined to talk back.
Thank goodness we don't have to do this alone. The One who hires us has promised to help us.  
God has employed me six times over in this role, and quite honestly, I'm still trying to figure it all out. There are no instruction manuals for the gig — only on-the-job training. If you have multiple clients (as I do!), each and every one of them adds their own variation to the job description.  
Some days while navigating carpool schedules, mediating sibling squabbles, readjusting a teenager's attitude and trying to stay no less than one basket ahead of the never-ending laundry pile, it's so easy to feel like we will never be adequate at the tasks at hand.  
But don't.  
Because, make no mistake mommas . . . with God's help, we are most certainly an abundance of enough for them. Some days will cause you to question this; but with resolve, do not. 2 Corinthians 12:9 (NIV) states: "My grace is sufficient for you, for my power is made perfect in weakness. Therefore I will boast all the more gladly about my weaknesses, so that Christ's power may rest on me."   
Our worst moments just give Him the opportunity to show up best!  
God will multiply your time, provide you with love and patience you didn't know existed and give you joy on the hardest of days. He created you for this sacred task by perfectly pairing you with each of your babies in His flawless design. 
That stubborn streak your daughter has, He knew you could handle it because you probably have the same resolve in you, too! The bouncing-off-the-walls ADHD tendencies your precious toddler demonstrates, God will give you creativity to channel his uniqueness and the energy to chase him. All we are asked to do is humble ourselves and draw close to Him. He will help us do the rest. What a comfort that provides when we feel 100 percent half-adequate.  
Read your Bibles and pray for your children. His Word is our instruction manual and our prayers an insurance policy as to parenting the next generation. Isaiah 54:13 (NIV) says, "All your children will be taught by the LORD, and great will be their peace." 
The "next generation" in our home ranges from 7 months to 15 years old. It amazes me how quickly the years of raising our children fly by. You will put them to bed one night and the next morning they wake up looking three inches taller and five years older. The day you transition the closets in your home from baby hangers to adult hangers will twist your heart. It will dawn on you one evening that they haven't crawled up in your lap with book in hand and asked that you read them a story that day. The tooth fairy will come for her first visit before you know it and her last visit before you are ready.  
It's a season, mommas. Yes, it is hard some days (most days, actually!), but it is beautiful and fleeting.  Enjoy the journey and blessing of motherhood and remind yourself that at the end of the day, no matter how difficult, busy or chaotic it may have been, you are more than enough for them with Him.