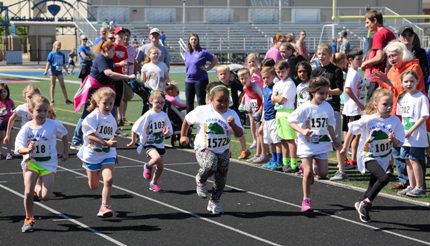 10 May

More than 900 participate in Toad Suck Daze Run

It was near perfect conditions for the 34th Annual Toad Suck Daze 5K/10K Run, held Saturday, May 6, in Conway.

The event includes a 10K Run, 5K Run, 5K Fun Walk and Tadpole Trot races. The 10K is an RRCA Arkansas Grand Prix race.

More than 800 registered for the 10K and 5K, which featured new race courses and drew the praise of many participants. As in previous years, the start and finish for the courses was at John McConnell Stadium at Conway High School. "Y'all did an AWESOME job on today's #ToadSuck10k….nice course, awesome volunteers and really fun finish in the stadium. Thanks for setting up and making everything go so smooth. I'll be back in 2018!"

Brent Corbitt of Little Rock was the winner in the 10K with a time of 33:05.94. Tia Stone of Searcy was the top female finisher at 37:38.63.

In the 5K, Bennett Pascoe of Conway was the first place finisher at 17:16.73. Sara Holman was the first female finisher at 21:00.22.
For the Tadpole Trot, the school with the greatest participation, based on enrollment, is presented a traveling trophy and $200 for its physical education department. Again this year, Conway Christian School was the winner.
Over the years, the race has raised nearly $390,000 for local charities.

Proceeds from this year's race will benefit a variety of local non-profits – the Boys and Girls Club of Faulkner County, Conway Athletics, Help for Abuse Victims in Emergency Need (HAVEN) and Miracle League Braves Field.

The Conway Kiwanis Club is the main organizer of the event, which is supported by the Conway Running Club and Conway Convention & Visitors Bureau and sanctioned by the Arkansas chapter of the Road Runners Club of America (RRCA).

Major sponsors are Kohl's, TLC Pediatrics, Baptist Health Medical Center-Conway, Arkansas Eye Care Group, Arvest, Conway Corporation, Nabholz Client Services, Regions, Smith Ford and The Sporty Runner.

The Toad Suck 10K was started by the Conway Kiwanis Club in 1982 and held in conjunction with the Toad Suck Daze Festival. In 1984, First National Bank of Conway (now Regions) began a race in memory of a fellow employee, Randy Baker, who died of cancer. The Randy Baker 8K was conducted for two years, with proceeds benefiting the American Cancer Society. In 1986, the Conway Kiwanis Club approached Regions Bank, and the two races were combined. The Toad Suck Daze Run continues to be held in memory of Randy Baker, with proceeds benefiting non-profit agencies in the Faulkner County community.

"We want to thank all of the sponsors, volunteers and runners for participating in this year's run," said race committee chairman Cliff Henry. "I thought it went very well."
For more information and a complete list of results from this year's 5K and 10K, visit toadsuckrun.com.