19 Sep 2018

More than 200 participate in Conway Kids Triathlon

Two hundred and five young people participated Aug. 11 in the 21st Annual Conway Kids Triathlon, presented by First Security Bank. The event was held at Hendrix College.

"The Conway Kids Triathlon is a great event for kids, families and our community," said Conway Kids Triathlon Race Director Pete Tanguay. "I was very pleased with how the triathlon went.  Although I've worked with the event for about five years, this is the first year I was the race director.  I have a new appreciation for how many 'moving parts' there are in putting on a triathlon."

Young people participated in three activities – swimming, biking and running. Kids between 6 and 10 complete a 50-yard swim (two laps in the pool), 2-mile bike course and half-mile run. Kids between 11 and 15 complete a 100-yard swim (four laps in the pool), a 4-mile bike course and a mile run.

While weather is always a big concern, conditions were perfect on this year's race day. Safety is also a big consideration. "When you have kids ages 5 to 15 racing on their bikes on public streets through The Village at Hendrix with many turns on the bike course, it takes a lot to ensure their safety. The bike course is the No. 1 area of safety concern as the pool is a controlled environment and the run course is entirely on sidewalks through the Hendrix campus."

Tanguay expressed his appreciation to the Conway police and fire departments for their help in ensuring safety. "The Conway Police department did such a great job managing the streets and their attitude and interest in the event is so wonderful. The fire department had a fire truck parked near the event to minimize the response time if there was an emergency. These are two great examples of public service by our police and fire departments," he said. "In addition, the volunteers on the bike course were ladies from Women Bike Arkansas, a local group of cyclists headed up by Tara Leamon from The Ride. Who better to care for kids on the bike course than women who love kids and love cycling?"

Tanguay also acknowledged two special volunteers for their help with this year's triathlon. "Two specific volunteers who made a huge difference for us was our emcee, Christina Munoz Madsen, and Frank Massingill, who set the feel for the event with the music. Frank has been involved with the event for years and always sets a fun and energetic atmosphere. This was Christina's first year and her connection with the kids was wonderful. It takes time to get all the kids into the pool and on the course and I've never seen anyone better at keeping kids having fun while they wait for an hour in the sun.

"We had over 80 volunteers taking care of business and making the event fun, safe and successful."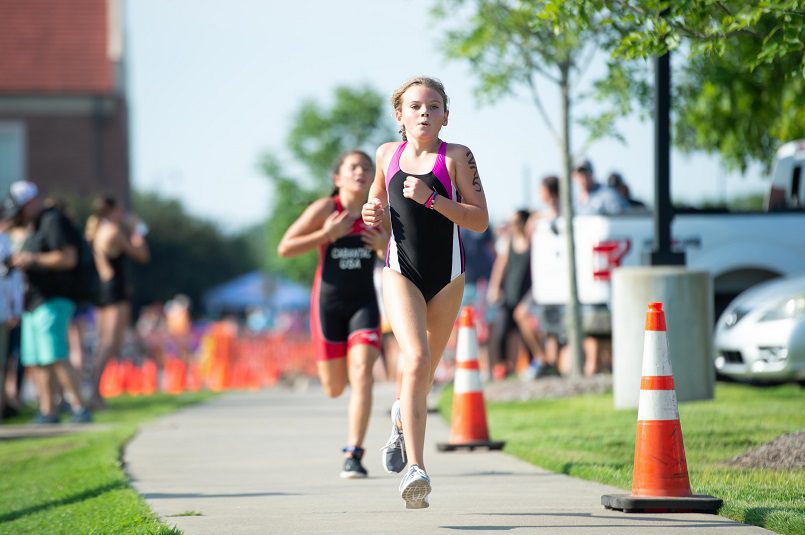 For the second year, Community Connections organized a special needs division for the event. Community Connections is a non-profit organization in Central Arkansas that provides extra-curricular activities for children with special needs and support for their families.
Of the 205 registered participants, 21 were in the special needs division.
"We added this division last year and it has given the opportunity to complete a triathlon to a new group of kids and we are very excited about this," Tanguay said. "Of the 184 kids who were not in the Community Connections, a third of them (about 60) were competing in their first triathlon. I love this statistic.
This is a wonderful accomplishment to cap off the summer with the week before school starts."
According to Tanguay, the first priority for organizers is providing a quality event for participants. Awards are presented to the top five finishers, with all participants receiving a finisher's medal.
The event raised $12,000, which was donated to Soul Food Café Mission, a critical mission to the Conway community. Every year, the mission provides services for close to 50,000 individuals with more than 30 percent under age 18.
"Through registration fees and generous sponsors, we are also able to raise money for Soul Food Café Mission," said Tanguay. "The Soul Food team is one of our hardest working groups of volunteers who help get everything set up and torn down before and after the event. This is the fourth year we've designated them as our beneficiary and it is a perfect match for the event.
"Many of the people served by Soul Food Café Mission are kids and families who have found themselves in an unfortunate situation in life and need some help to get back on their feet. We see this partnership as one of healthy kids and families giving to hurting families to help them get back on their feet."
The 2019 Conway Kids Triathlon is tentatively set for Saturday, Aug. 10, at Hendrix College. For more information about the Conway Kids Triathlon, go to ConwayKidsTri.com or contact Tanguay at 501.908.3876 or [email protected].