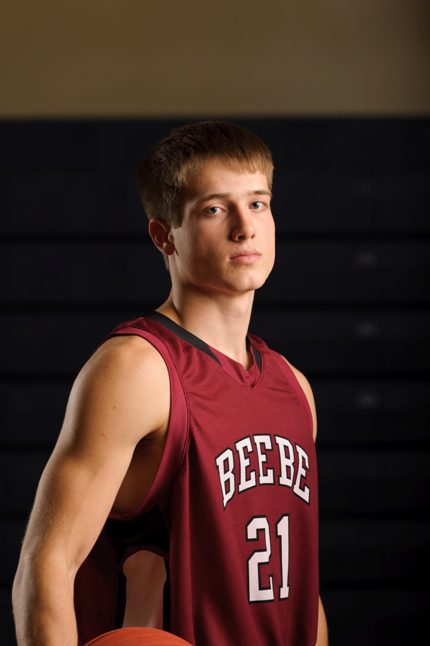 06 Jan

Moore, Badgers ready to 'turn the page'

by Mark Oliver


With eight losses in their first 10 games, the Beebe Badgers have taken their share of lumps this season. Despite the rough start to the season, however, the optimistic Badgers believe that with each game comes a new lesson, and with 5A Central conference play under way, they're ready to put it all together as a team.


"Recently, we played against Maumelle in the Beebe Christmas Tournament," senior guard Austin Moore said. "The Hornets were good — probably one of the best teams we'll play all year. As underdogs, we went out there and played great on both sides of the ball. We worked together as a team and did many things right. Though we didn't win the game, we learned a lot — most importantly that if all five of us buy in and play together and get on the same page, then we can turn the page as a team, together."


Moore was selected to this year's 501 Basketball Team — 35 players representing the best the 501 has to offer both on and off the court. He was nominated by his head coach, Ryan Marshall.


"Austin leads by example on and off the court," Marshall wrote in his nomination. "He comes to the gym at 6:30 a.m. on his own to work on his game. He knows our system and is a coach on the floor. He is also a great student with a 3.6 GPA and is well-respected by his teachers."


In his final season with the Badgers, Moore has one goal — to get one last shot at the Class 5A state championship.


"I want to make it back to the state tournament one last time," Moore said. "During my sophomore year, we made it there, but we fell short. We still have a lot of growing and learning to do, but if we keep improving on our defense and our scoring, then I'm confident that we can get there."


Through his leadership on the floor, Moore aims to propel his team forward to its goal.


"We have to keep pushing," Moore said. "We have to keep fighting. Each game, I try to push the guys and make them the best that they can be. I try to encourage them and pick their heads up when they're down. We're taking each game one at a time and win or lose, we're always improving."


Moore recalls a pivotal game from his sophomore season — one the senior says helped him become a better leader.


"I remember traveling to Blytheville once," Moore said. "One of our star players was out with a fractured foot, and we were viewed as underdogs in that game. With nothing to lose, we went out there and did what we're supposed to do and came away with a big win. I remember playing a lot of minutes that night and performing my role to the best of my ability. That game taught me a lot. I learned that if your team can learn to trust each other, then good things can happen."


Moore is no stranger to struggle. After all, the senior has been dealing with various challenges on and off the court his entire life.


"In the summer before my sophomore year, I hurt my ankle playing basketball and had to have surgery," Moore said. "The doctors discovered that because of a birth defect, I had extra bone and cartilage in my foot. For seven months, I couldn't play, and it cost me the first half of that season. The doctors said I would never fully recover. It was hard watching my teammates play without me. When I was finally cleared to play, I had to come back and refocus. I had to work hard to improve my game and catch up for the time I had missed. Though it still affects me today, I'm thankful to get another chance to play basketball."


Raised in a single-parent household, Moore's biggest inspiration comes from those who made his basketball dreams possible and also taught him to cherish every game.


"My family has played a very big part in who I am today," Moore said. "My mom was a single mom. We didn't always have much, but she always made sacrifices for me and sometimes went without things so that I could play the game I love. I remember getting a basketball goal when I was young and when I started playing with it, it made me want to play on a team when I was older.


"My grandpa took me to my first peewee tryout in first grade. It's one of my favorite memories with him. My grandparents helped me go to basketball camps when we couldn't afford it. I wouldn't be where I am today without all of their support."


Off the court, Moore is involved in HOSA — a national student organization that promotes career opportunities in the health care industry — and spends his free time enjoying the outdoors with his teammates.


"I like to go fishing and hunting," Moore said. "A couple of seniors on the team — Bryson Bell and Tyler Bradberry — we hang out and go hunting together. We've been friends for a long time."


After high school, Moore has big plans for his future and hopes to one day give back to the community he calls home.


"I'd like to continue playing basketball if I can," Moore said. "I've talked to coaches at Hendrix College and also at East Texas Baptist University. I'd like to major in biology and pursue a career as a dentist. A few years ago, I took a medical class that required us to go out and shadow different fields. I chose to shadow my dentist, and I really enjoyed it. You don't do the same thing every day, and there's always problems to solve. At the end of the day, you work to make someone's smile better. When you can make smiles better, you help make lives better, too."


Beebe plays at Pulaski Academy at 6 p.m. Friday.