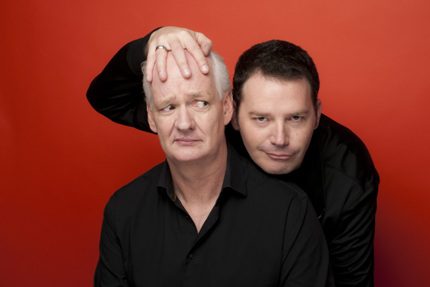 03 Nov 2014

Mochrie and Sherwood to return to UCA

Posted at 11:50 AMh

in

News

by Cassidy Crawford

College of Fine Arts and Communication Media Office


"An Evening with Colin Mochrie and Brad Sherwood" from ABC's Emmy-nominated series "Whose Line Is It Anyway?" is set for 7:30 p.m. Saturday, Nov. 15, at Donald W. Reynolds Performance Hall.

It's the third appearance for the pair and likely to be a third sell-out, according to Amanda Horton, director of UCA Public Appearances.


501 LIFE is the sponsor of the performance.


The entire show is unscripted and the two stars rely completely on participation and interaction with the audience to create their witty dialogue. Audience members are brought onto stage to help with the improvisation and encouraged to make suggestions throughout the performance.


According to colinandbradshow.com, "The entire show is driven by audience participation. Audience members yell out suggestions and Colin and Brad do the rest."


"If you love laughter, surprises and off-the-cuff humor, then this is the show for you," Horton said. "I am amazed at the witty humor that Colin and Brad bring to their performances. They incorporate audience participation to make each show unique and special to the venue.


"I am sure they have some new antics for our guests."


Tickets, available at the UCA Ticket Central Box Office, are $30-$40 for adults, $27-$37 for senior citizens, $23-$35 for UCA alumni, faculty and staff and $10 for all students. For tickets, call 501.450.3265 or toll free from anywhere in Arkansas at 1.866.810.0012, 10 a.m. to 4 p.m. Monday–Friday, or visit uca.edu/tickets.


For more information, contact Horton at 501.450.3682 or [email protected].


The UCA College of Fine Arts and Communication includes the Departments of Art, Communication, Mass Communication and Theatre, Music and Writing. The college's primary mission is the preparation of the next generation of artists, educators and communicators. For more information about CFAC, visit uca.edu/cfac or call 501.450.3293.