13 Oct 2021

Mitchell named ASUN defensive player of the week

ATLANTA — Central Arkansas volleyball got their first glimpse of ASUN praise as graduate middle blocker Amari Mitchell claimed defensive player of the week for her work against Eastern Kentucky and Bellarmine.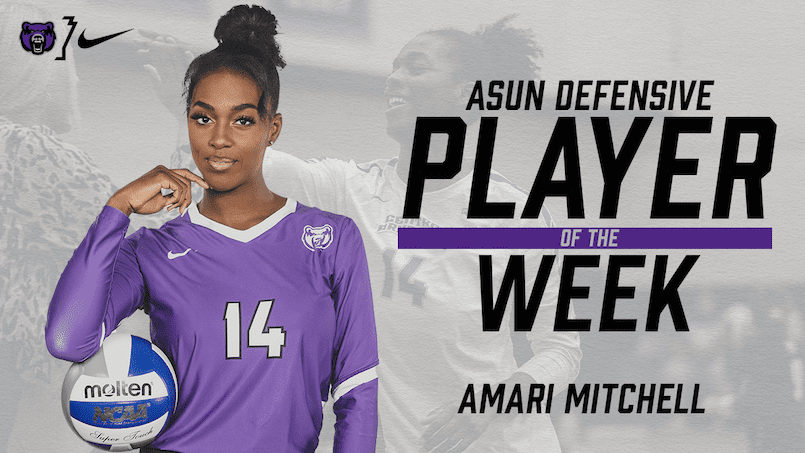 As one of the leaders on this youthful Sugar Bears squad, Mitchell is the force that commands the net and sets the tone for the defense. Not only has she excelled at the role, but she has dominated as this weekend, her stats were that of historic proposition. Her best outing of the homestand came in the first match as she faced off against the Colonels in the trenches. In that match, Mitchell accumulated 13 total blocks, which ranks fourth in school history for blocks in a single match. She also posted 11 assisted blocks, which is fourth in school history for a single match as well.

While Mitchell did not set another record in the second match, she continued where she left off when the Sugar Bears took on the Knights. She had less time to rack up the stats in a three-set sweep than she did in the five sets against EKU but still posted the second-most on the squad with six total. This only continued her trend of dominance as this was her fifth straight match with at least five blocks.

Mitchell's ability at the net was not all for herself, as her ability to stop the ball at the net helped the Sugar Bears post one of their best defensive weekends this year. In the two matches played, UCA held their opponents to an average .231 hitting percentage, as it was nearly impossible to get it past the middle blocker. For those reasons, Mitchell was gifted this award, which is the first player of the week award for the Sugar Bears in the ASUN and is her first weekly award in any conference.

Quote from head coach John Newberry:

"I couldn't be any more proud of Amari. This is a great honor for us being new to the ASUN. Coach Lexi and Amari have worked tirelessly over the last few weeks. She has worked hard on some technical blocking moves, so she can be a major force at the net. This is a very deserving award for Amari, and I am very proud of her."