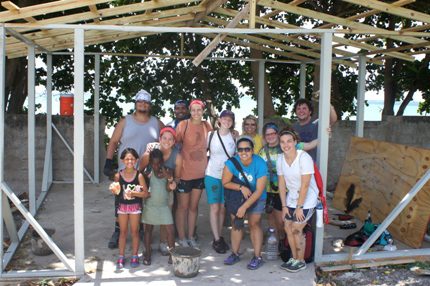 21 Jul

Mission trip to Jamaica

Seven students from the Catholic Campus Ministry (CCM), which serves both the University of Central Arkansas and Hendrix College, recently returned from a mission trip to St. Anne, Jamaica.

"Most people imagine Jamaica as a nice vacation spot," said CCM member Holly Hambuchen. "Once you step outside the tourist area, your view changes. The poverty there is very apparent."


The CCM students, which included Holly, Stormy Prewitt, Anna Eubanks, Tony Mitchel, Michael Kersten, Melissa Snider and Amy Siebenmorgen, made the trip through the auspices of the Catholic Heart Work Camp (CHWC) based in Florida. It conducts a Jamaican mission each year.
About 80 people from CHWC were on the ground there and were split into smaller groups. They gathered together each night for daily Mass.

"Much of our time was spent building houses and building relationships with the Jamaican people," Holly said. "They're friendly and inviting. They also showed us how beautiful simple living is and inspired us to let go of our worldly possessions."