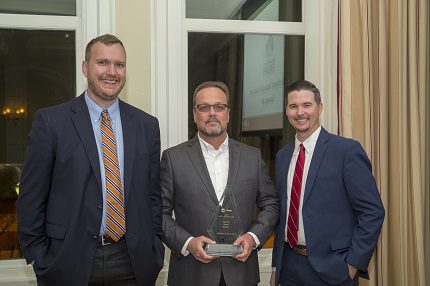 09 Apr

Middleton Heat & Air given Top Dealer Award

Middleton Heat & Air recently was awarded Trane's Top Ten Dealer Award for 2017.


Ben Hedenberg, Southern Division Sales Director of Trane Residential Solutions, a division of Ingersoll Rand, presented the award. The announcement was made at Trane's annual DSO spring meeting at the Capitol Hotel in Little Rock.


Accepting the award was Ron Humphrey, Middleton's residential operations manager. "We were in competition with approximately 350 Trane dealerships throughout Arkansas and a portion of Louisiana, so we are very honored with this award and proud to be a Trane Comfort Specialist," said Humphrey.


Adam Weaver, MidSouth DSO General Manager said, "Again this year, our award spotlights Middleton Heat & Air. Your team has made quite an accomplishment. They have diligently been devoted to installing and maintaining quality heating and cooling systems in a large portion of Central Arkansas for 42 years — and we're proud to have provided residential and light commercial products for many of these years."


The Conway office is located at 55 Nabco St.


Middleton Heat & Air founder and president is Chuck Middleton, and his son, Mark Middleton, is managing director.