15 Mar 2023

Men's golf finishes fourth in Oklahoma

The Harding men's golf team shot a 7-over 295 on Tuesday and finished the Hillcat Classic with a 23-over 887, but couldn't overcome strong performances by Rogers State, Missouri S&T, and Union, and placed fourth. Rogers State won the team title by ten strokes, shooting 5-over 869 for the tournament.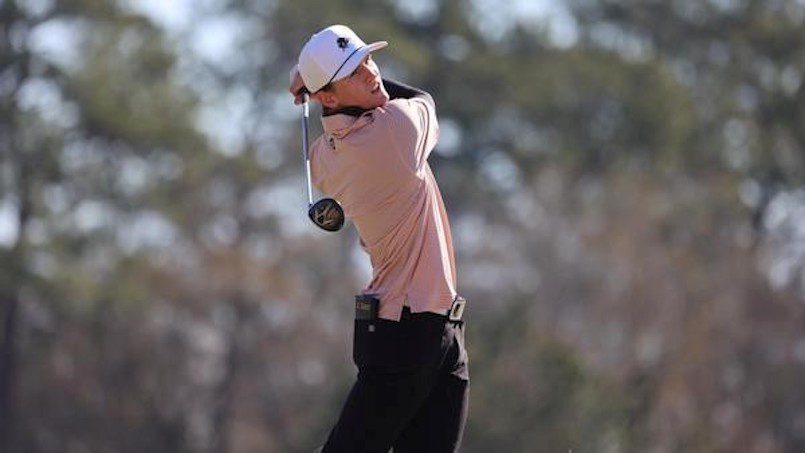 Sam Tandy bounced back in Round 3, shooting a 1-over 73 to vault him to a tie for 11th at 7-over 223. Tandy sank four birdies in his round on Tuesday. Caleb Nichols also finished tied for 22th with 7-over 223, after a 4-over 76 in Round 3.
Leo Maciejek also made four birdies on his way to a 4-over 76 third round score, and finished the tournament with an 8-over 224 and tied for 16th. Roby Cooper finished up his solid performance with a 4-over 76 to finish the tournament with 14-over 230 and tied for 20th.
Manuel Cue Vargas made the biggest jump by anyone on Tuesday, leaping 17 spots with a 2-under 70 score and finished at 15-over 231 and tied for 23rd. Vargas sank six birdies in the round, including one on each of the final three holes. Jose Peralta finished tied for 33rd with 18-over 234.
The Bisons will travel to Edmond, Oklahoma next week (March 20-21) and compete in the UCO Classic hosted by Central Oklahoma at the Rose Creek Country Club.