02 Jun 2023

Men of the Moment 2023: Austin and Chase Boyce

AUSTIN BOYCE

"Success is not final, failure is not fatal: It is the courage to continue that counts."

-Winston Churchill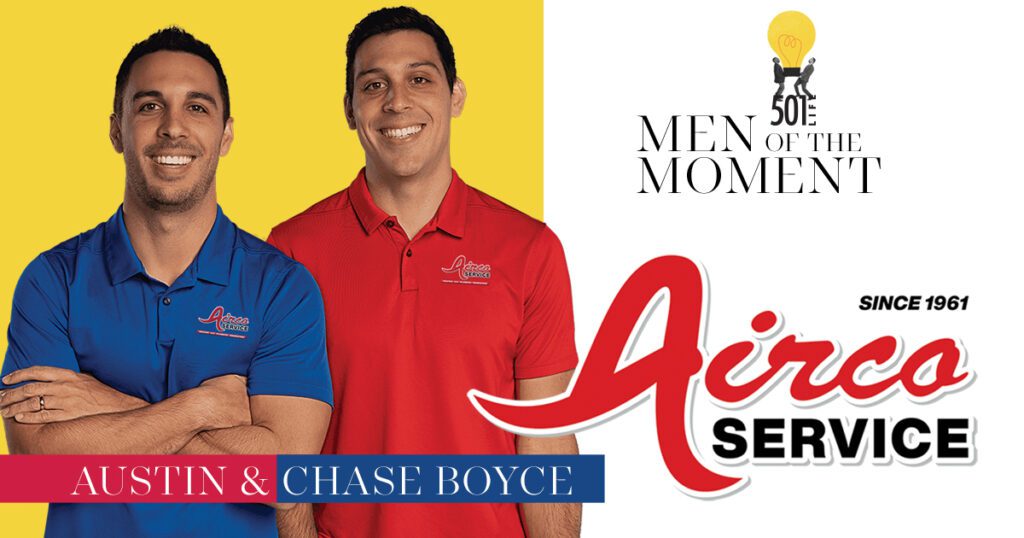 Enduring the COVID-19 pandemic was a challenge for all in the 501. As businesses throughout Central Arkansas faced the daunting task of keeping doors open and delivering peace of mind in the midst of the unknown, Airco Service, Inc. Vice President Austin Boyce rose to the challenge of adapting his business to the needs of his customers.
"We have faced many challenges over the years, but the COVID-19 years stand out," Boyce said. "We have customers and businesses that depend on our team for their homes and businesses. The hot summers and cold winters don't take a day off. Navigating the fear of the virus while keeping customers and employees safe was a significant challenge for our team."
Through tireless research, Boyce and the team at Airco Service, Inc. never lost sight of what was most important: ensuring the comfort and safety of those who put their trust in the business.
"We invested in protection equipment as well as non-contact payment methods to keep everyone safe," Boyce said. "The logistical challenge of non-contact service was especially difficult with service taking place in homes. We have a hard-working team that never took a day off, which ultimately allowed us to adapt to our new normal."
As a result of the pandemic, a heightened emphasis has been placed on air quality, paving the way for a new-look HVAC industry.
"The HVAC industry has changed at a rapid rate over the last five to 10 years," Boyce said. "We have seen changes in energy-efficiency regulations, advancements in technology and the importance of indoor air quality. These changes have led to a rapidly changing landscape that has improved and modernized our industry."
In the face of adversity, a silver lining was revealed. For Boyce and his team, navigating the pandemic not only sparked growth and innovation, but it taught them what was possible when your back is against the wall.
"A valuable lesson I have learned that I would offer to young men would be to embrace change and adaptability," Boyce said. "Life is full of twists and turns and being flexible enough to embrace unexpected challenges is such an asset that can lead to success and opportunities you may have never expected."
CHASE BOYCE
"People do not care how much you know until they know how much you care."
-Teddy Roosevelt
As a third-generation leader of family-owned Airco Service, Chase Boyce takes pride in his ability to help customers achieve comfort and confidence in an ever-changing climate.
"There may have been more changes in the HVAC industry in the last ten years than the previous 40 years before that," Boyce said. "From minimum efficiency equipment standards to refrigerant changes, the industry has seen a major increase in technology that provides contractors with new tools necessary to solve any issues that plague homes today."
While Airco Service has expanded to assist the 501 with heating, cooling, electric and plumbing needs, customer service remains its most important product.
"Growing up in a family business granted a unique view into the service industry that many customers cannot see," Boyce said. "Seeing the genuine pride and joy that my family received from helping customers find a solution to their home's problems is something I will never forget. Helping customers is still the driving force of our company today. We are a customer service company that happens to do heating, air conditioning and plumbing. Customer service will always be first."
According to Boyce, the secret to longevity in business is not only taking care of your customers but your employees as well.
"Customers will never love a company until the employees love it first," Boyce said. "Creating a culture of teamwork and unity will build a solid foundation for any company to grow upon for years to come while keeping both employees and customers for the long run."
When facing adversity, Boyce advises young businessmen to weather the storm.
"Trust your instincts and know what you and your business stand for," Boyce said. "With the advent of social media today, millions of people relish the opportunity to tell you how to run your business. No one knows your business or skills as you do. Knowing and standing on your morals will help you sleep long after any profits you made are gone."
Airco Service, Inc. is a Dave Lennox Award winner, has served as a top-25 Lennox dealer in North America for 15 years running and was named to the EPA's Century Club for being a leader in home energy efficiency.