26 Apr 2019

Medical detective: Smith in role 'where you never get bored'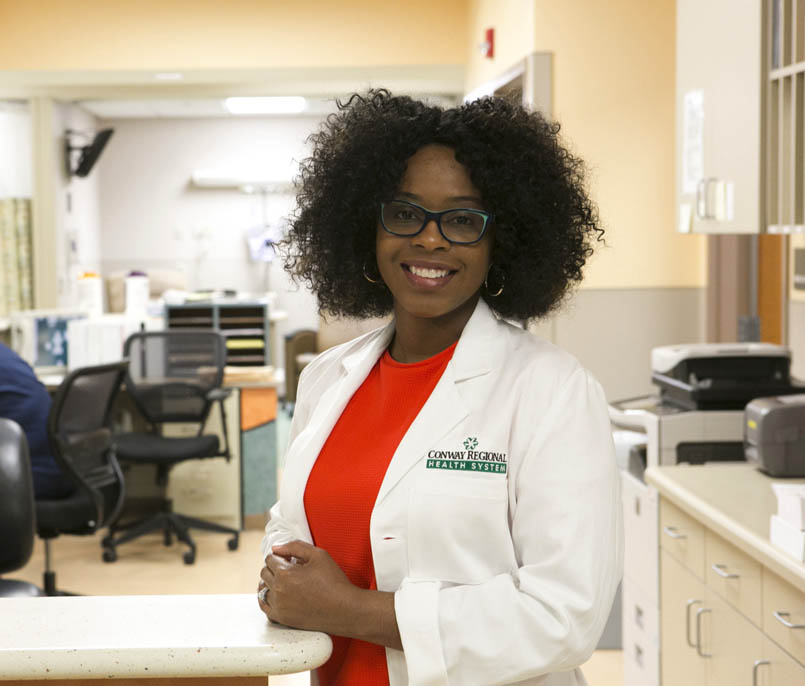 by John Patton
When you hear the words infectious disease specialist, the mind wanders toward a movie where the Centers for Disease Control is trying to contain a zombie virus that is spreading across the country.
This is where Hollywood and reality part ways for Mallory Smith, MD.
If your family doctor refers you to an infectious disease specialist, zombification is not a worry. While a referral to her is usually a serious medical situation, Smith prefers the role of medical detective over anything Hollywood would create.
Infectious disease specialists, or IDs as Smith calls them, are physicians who are trained in internal medicine and specialize in diagnosing, treating and managing infectious diseases. These specialists have extensive knowledge of how viruses, bacteria, parasites and fungi affect the body, especially in the sinus, bone, brain, heart, lung, bowel, pelvic and urinary tract areas. An infectious disease specialist typically undergoes between five to six years of intensive training, including learning about immunology and epidemiology. 
In Smith's case, she spent eight years of medical training to prepare her for a career as an infectious disease specialist. 
Her journey began in Earle, a small northeast Arkansas town.
According to her parents, Smith wanted to be a doctor since age 3. She turned that desire into a bachelor's degree at the University of Arkansas, followed by a medical degree from Ross University School of Medicine, a private international medical school located in Portsmouth Dominica. Ross University medical students travel to New Jersey, Miami and Atlanta to complete their clinical studies. During the course of those studies, Smith began to realize that infectious disease would be her career path.
A four-year residence in internal medicine and pediatrics followed at Louisiana State University in New Orleans and a two-year fellowship in infectious disease at UAMS. New Orleans proved to be a good location for the study of infectious disease with the combination of the swampy environment, Cajun culture and a large city. "It helped me to get the exposure from all these different environments," said Smith.
All of these experiences have led to her practice in Conway. For example, assisting with the diagnosis of a patient during her clinical training in Atlanta helped Smith diagnose a patient in Faulkner County with the same rare parasitic infection. The common thread was exposure to water in the South American Republic of Colombia.
"ID is one of those professions where you never get bored," said Smith. In Faulkner County, Smith sees patients wanting a variety of services including:
Travel medicine: Analysis of what vaccine they should receive based on future travel plans to a foreign country or region such as South America.
Vaccine medicine: Analysis of possible symptoms of measles, whooping cough and other vaccine-preventable disease.
HIV and other auto immune diseases: She is certified in the treatment of HIV patients. "Diseases like HIV fit into my wheelhouse."
Primary care doctors send patients to her for help in diagnosing complex and hard-to-treat disease. Smith is currently the only infectious disease specialist in Faulkner County. "Many times, your primary care doctor is all you need, but sometimes they call on me for a little extra help," she said. She also makes rounds on patients with infectious disease related illness at Conway Regional.
Her best diagnostic tools are medical histories, imaging and laboratory reports, and the results of blood work and wound cultures. She will also perform her own examinations on a patient, from basic physicals to advanced tests like a blood serum analysis that determines what types of antibodies — and, thus, what types of infections — are present in the body. 
"I'm going to put 100 percent effort into figuring out what is wrong with them (my patients). I will use all my resources. As long as we can work together as a team and they tell me everything, we usually figure it out."
Smith is fond of saying that 80 percent of the time a patient can be diagnosed based on what they tell their doctor. Patients who visit her should expect a lengthy discussion surrounding their work and personal life.
The ideal infection disease specialist should be a good listener, highly inquisitive and tenacious. All are qualities that define Mallory Smith as a good medical detective.
For more information, call the Conway Regional Infectious Disease Clinic at 501.513.5295.