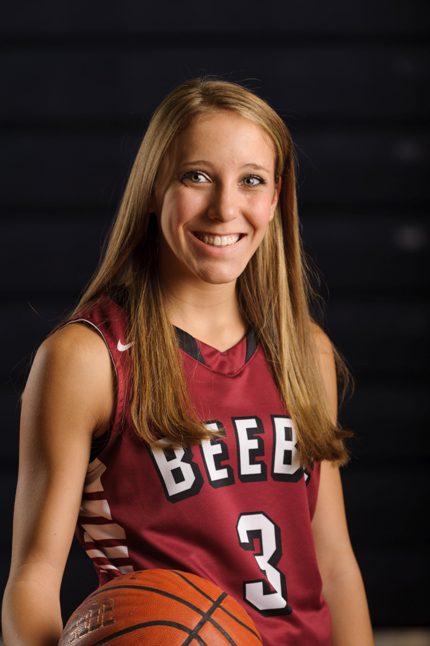 06 Jan 2016

McGraw, Badgers begin 5A Central play

by Levi Gilbert


For a coach, there's just no substitute for experience, and that's what makes Taylor McGraw so crucial to the Beebe Lady Badgers.


McGraw, a senior point guard for Beebe and three-year starter, was selected to this year's 501 Basketball Team — 35 players representing the best the 501 has to offer both on and off the court. She was nominated by her head coach, Greg Richey.


"Taylor was all-conference the last two years and all-state last year," Richey wrote in his nomination. "We expect her to continue to build on her past successes. She's a good decision maker, good 3-point shooter and leads by example."


As of press time, McGraw was shooting 46 percent from 3-point range and averaging 13.3 points per game for the Lady Badgers.


The senior point guard first got her start in a gym in the first grade, but it wasn't initially with basketball.


"At first I was in peewee cheer, but no one seemed to pay attention to the cheerleaders," McGraw said. "So I decided to become a basketball player."


McGraw leads the floor from her position, but she leads the team with her toughness, which she has already proven this season is nearly unrivaled.


"Our game against Searcy in the Beebe Christmas Tournament was a defining moment for me," McGraw said. "Before the half, I was hit in the mouth and needed stitches. The trainer patched me up, and I finished the game where we came back from a 12-point deficit to win. Next we played Riverview and almost beat the Raiders, who are ranked No. 2 in the state.


"It is important to me to be a good senior leader. I have been working on that so that all the Lady Badgers work as a team, look out for each other and that we lift each other up when needed."


As much as she gives to the Lady Badgers on the court as a player, McGraw has found other ways to give back to the sport and program she loves.


"Along with two other Lady Badgers, I coach a peewee basketball team," McGraw said. "This is a great experience for me, and I love working with kids to help them improve. Also, I am an aide to Coach Ryan Marshall, Beebe Senior High Basketball Head Coach, and I help work with the ninth grade boys basketball team at Beebe. In addition to that, I help with the AR Sting competitive basketball teams with my summer coach, Heather Healy."


Out of the gym, McGraw also runs track and cross country for Beebe. She has integrated herself all throughout Beebe High School as a member of FBLA, FCA, Youth Alive, Key Club, Beta Club, Spanish Club, BHS Pep Club, library aide and Senior High Leadership Group.


The Lady Badgers pick up 5A Central play this Friday by traveling to Pulaski Academy.