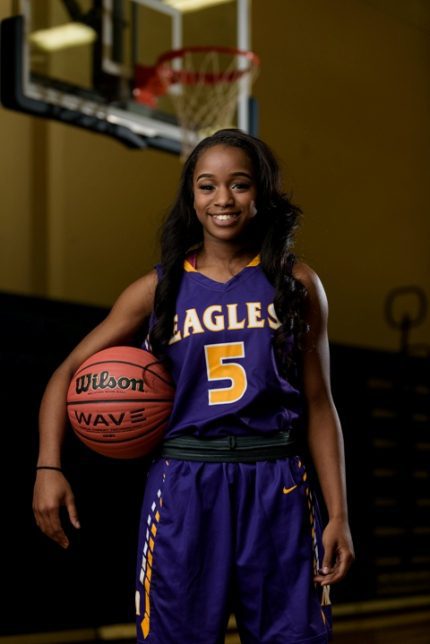 28 Dec

Mayflower's Lasker: 'The hardest working player'

by Levi Gilbert


Mayflower senior Tori Lasker knows this isn't the end of her basketball playing days. Lasker, a point guard for the Lady Eagles, will play for Joe Foley's UALR Lady Trojans next fall. But she still has some unfinished business in her Mayflower uniform.


"Our team goal for this season is to win the state championship," Lasker said.


Lasker was selected to this year's 501 Basketball Team — 34 players representing the best the 501 has to offer both on and off the court. The team is sponsored by First Service Bank and First Security Bank.


Lasker was nominated by her head coach, Lacy Frost. "Tori is an exceptional ball handler and very difficult to guard," Frost wrote in her nomination. "She's an offensive threat from the inside out and a great defender."


Lasker is the undisputed leader of the Mayflower Lady Eagles. She's been named the team captain every year.


"Other players look for her to lead the team," Frost said. "She is expected to bring the ball down the court, score in the 20s each night and get the ball to her teammates for scoring opportunities. Tori sets the tone for the team on the court, so it's important that she stays positive at all times.


"Tori is the hardest working player I have coached so far in my career, and that's the reason she is the player she is today."


Her hard work in high school has had ripple effects that have set up her collegiate future with UALR.


"I've played basketball for so long," Lasker said. "The day Coach Joe Foley offered me a scholarship was a humbling experience. I was at his camp, and he called me over to the side and just simply asked, 'Do you want to play for me?' I was literally in tears!"


Mayflower if 5-4 through the early part of the season, and faced an early test in December at Rose Bud.


"Playing Rose Bud this year was a defining moment in our season," Lasker said. "Mainly because we expect to see them in the state finals. They're a very good team. We're playing some very tough teams, but I love competition, and being challenged usually brings out the best in me."


The challenging schedule has given Lasker some perspective on areas of focus moving into the full 2-3A conference schedule.


"I have to work on moving without the ball in my hands," Lasker said. "Another personal goal for this season is working on my jump shot, especially mid-range. I have to know when to slow down on the court because sometimes I speed myself and the game up at the wrong times. I also have to work on saving my energy because we only have nine players on the team."


Lasker is averaging 23 points and four assists per game. She also runs the 400 meter sprint for the Mayflower track team. She's a member of Mayflower's Beta Club.


Lasker and Mayflower return to action in the new year at Lonoke on Tuesday, Jan. 3.