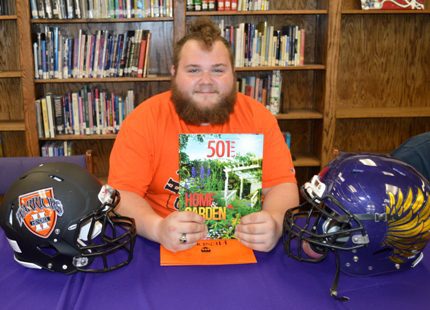 14 May 2014

Mayflower's Kocher signs with Hendrix

by Levi Gilbert


A Mayflower Eagle is now the latest Faulkner County football player to sign with Hendrix College. Sean Kocher signed a letter of intent recently to become a Warrior and continue his football playing days just a few minutes away from his high school stomping grounds.

The proximity to Mayflower was a huge draw for the defensive lineman.


"It was close to home, has great academics and is part of a great community," Kocher said. "My family can come to all of the games and be there for me through college."


For Kocher, the signing marked a milestone in a goal 10 years in the making. The noseguard/defensive tackle has been playing football for the last decade, inspired solely by his "love for the game."


His time in the Mayflower football program has groomed him well for the transition to college. Kocher said he faced many trials during his high school playing days, but walks away with some great memories.


"I high strained my ankle right before my senior year," he said. "[Off the field], my grandmother has Arnold-Chiari Malformation, so we have to keep a close eye on her. [My favorite memory is] our 'Band of Brothers' camp that we took every year in high school — a week of nothing but your brothers and football."


Kocher was a one-sport athlete at Mayflower, devoting his athletic aspirations only to football. He was a member of National Honor Society, Beta Club, Spanish Club and Fellowship of Christian Athletes. He is also a member of Calvary Teens.


As he starts classes at Hendrix this fall, Kocher will now have two 501 football communities to call home — Conway and Mayflower.


"The communities are close knit and always willing to help," Kocher said.