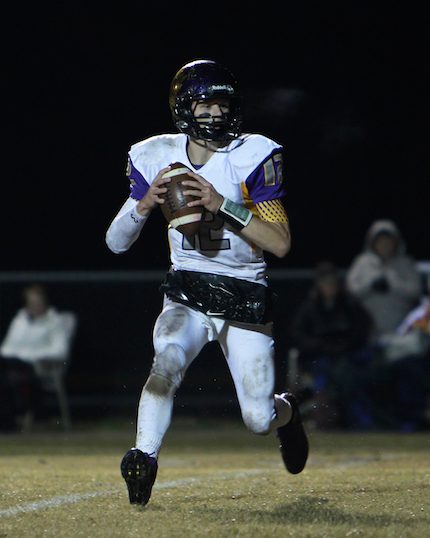 12 Aug

Mayflower: Eagles begin new era under Coach Langrell

Conference: 2-3A
Coach: Todd Langrell
'13 Record: 5-6 (4-3)

2013 looked to be a breakout year for the Mayflower Eagles. A high-powered offense held much promise in a run-and-gun 2-3A. The Eagles started conference play by defeating Perryville 61-12, Bald Knob 54-0 and Riverview 54-14, but the Eagles couldn't close out games against the conference's top dogs, finishing fifth in league play and falling in the first round of the playoffs.

"I feel expectations were high and not fulfilled last season," said Todd Langrell, Mayflower's new head coach. "With continued hard work and a burning desire to win, the high expectations can become a reality in the 2014 season."


That prolific offense from the last two years returns many of the same starters, including quarterback Adam Dycus, receivers Josh Woodham and Drew Duncan and running back Justin Bailey. Dycus threw for 4,364 yards with 54 total touchdowns. Woodham had 1,444 receiving yards with 20 receiving touchdowns. Duncan had 1,046 receiving yards with five receiving touchdowns. Bailey rushed for 992 yards with 432 receiving yards and 15 total touchdowns.


As a team, the Eagles averaged 540 yards per game, averaging 406 passing yards per game and 134 rushing yards per game.


Three starters return on the offensive line — Austin Grundy, Justin Case and 501 Football Team honoree Riley Norman.
"Offensively, we return most of the starters," Langrell said. "With a returning quarterback, running back, two wide receivers and three offensive linemen, we expect to continue putting pressure on other teams with our speed and athleticism."

The Eagles return three starters on defense — linebacker Dylan Liner, lineman Jeffery Wilson and safety Trey Lasker, who had 63 total tackles with three interceptions, one fumble recovery and one defensive touchdown.

"Defensively, we expect great growth," Langrell said. "We lost some key starters to graduation, but we have guys who are anxious to step in and fill those spots. There will likely be some players on the defensive side of the ball that haven't had to play there before. Those guys are excited to get the chance to play on the defensive side of the ball."

A young defense will be tested early and often in a deep 2-3A.
"Harding has dominated the conference of late," Langrell said. "They'll be the favorite until someone can unseat them. Barton continues to impress with their option offense and aggressive defense. Little Rock Episcopal improved dramatically last year and became a great team. I expect them to get even better with the returning starters that they will have.

"At Mayflower, we always expect to compete for a conference championship. We want the kids to have that frame of mind. We want the whole community to have that frame of mind. With a new head coach come new schemes and philosophies, so there is a lot of excitement and enthusiasm around what the future holds for the Eagles. With the returning playmakers that we have on both sides of the ball, we expect to have a lot of success and to bring a lot of excitement."