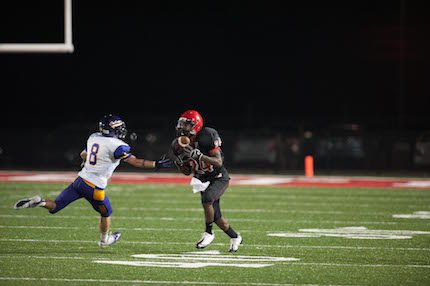 12 Aug 2014

Maumelle: Hornets face tough schedule in move to 5A

Conference: 5A West
Coach: Mike Buchan
'13 Record: 10-3 (6-1)

The Maumelle Hornets made a leap to the next level in 2013, notching double-digit wins and a remarkable season. Maumelle finished second in the 4-4A and is making the move up to the 5A West this fall.

The Hornets will be senior laden in the offensive backfield. Expected starters include seniors J.B. Menix (quarterback), Braylon Waits (running back), Blake Conner (running back) and Jared Hailey (fullback). Hailey is a member of this year's 501 Football Team.


"[Jared is] fearless, hard-working . . . always positive," Coach Mike Buchan said. Other expected starters on offense include juniors Nabil Bhimani and Gabe Jones at receiver, junior Gary Burton at tight end and seniors Trent Johnson and Joshua Ware and junior Gage Robbins on the offensive line.


Senior Malik Singleton leads the way on the defensive line. Burton also starts on the defensive line.


Senior Michael Cole returns at linebacker. Defensive stalwart Nick Ingram returns to lead the secondary.


The senior cornerback pulled in four interceptions in 2013.


Classmate Marquez Hines will join Ingram in the secondary at the other corner spot.