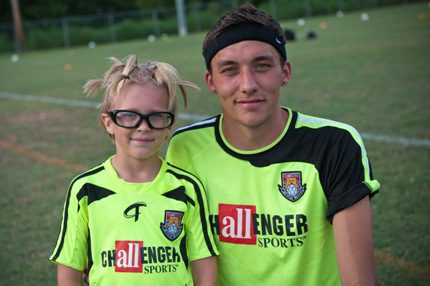 Apr 11, 2012

Maumelle club to host British Soccer Camp

Challenger Sports – a top youth soccer company in the U.S. – will be hosting one of its nationwide British Soccer training camps in Maumelle.


Maumelle Soccer Club hosts one of the largest camps of its kind in the region, and has again teamed up to host the weeklong British Soccer Camp during the week of Monday, June 25, through Friday, June 29, at Rolling Oaks Soccer Complex.

Friday, May 11, is the registration deadline to receive a free replica jersey. Campers will also receive a free British Soccer ball, soccer T-shirt and a giant soccer poster.


Challenger has become the largest soccer camp provider in North America by combining consistently high quality, age specific soccer instruction, along with equally important elements of character, cultural, and nutritional education. Each day the players will practice and master new individual skills and understand small group and team tactics through Challenger's innovative camp curriculum. Most campers will also scrimmage each day in the always popular Camp World Cup.


This year, and due to ever increasing demand, specific coaching sessions for the competitive /classic level player have been added. These coaching groups will specifically cater to those with, and involved in higher level play. These groups will be coached by some of Challenger's most experienced coaches.


This year, Challenger Sports has introduced Challenger 1,000 Touches Curriculum which will provide high levels of repetition of the most valuable and frequently used soccer skills, and, as the title suggests, it will give each player more than 1,000 points of contact with the ball in each three-hour daily camp.
The Challenger coaching staff believes that teaching soccer skills is only a part of the process of educating young athletes. The coaches will also take time out of the busy weekly schedule to teach lessons on respect, responsibility, integrity, sportsmanship and leadership and discuss how these core values relate to soccer, family and school.

To register, visit maumellesoccer.com. For information, contact Kelly Urban at 501.416.3895 or [email protected].