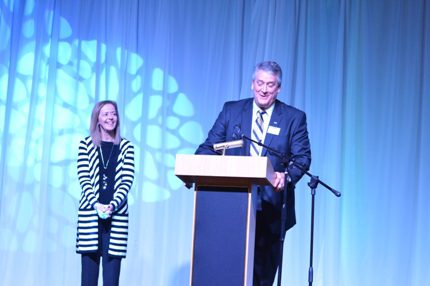 17 Mar

Maumelle chamber presents awards

The Maumelle Area Chamber of Commerce recently celebrated its outstanding members during its annual banquet, presented by First Security Bank at the Maumelle Event Center.


With a record breaking attendance, there were many residents, business leaders and elected officials present. Guest speakers included Attorney General Leslie Rutledge and Lieutenant Governor Tim Griffin.


During the program, the chamber honored members who have gone above and beyond during the year. Award winners were:

Large Business of the Year – Fidelity Communications.


Small Business of the Year – Lake Liquor.


Ambassador of the Year – Al Canelli of Canelli Production Services, Inc.


Person of the Year – Judy Keller, director of community and economic development for the City of Maumelle. She is a 2005 graduate of the Community Development Institute at the University of Central Arkansas (UCA) and a 2009 graduate of the Economic Development Institute (EDI) at the University of Oklahoma. Judy also received the designation of Mid-South Basic Economic Development Professional from the Institute of Economic Advancement (IEA) at the University of Arkansas at Little Rock in 2011. She has a bachelor of arts degree in criminal justice from the University of Arkansas at Little Rock. Judy is married to Blue Keller; they have two sons and six grandchildren.


For more information on the Maumelle chamber, executive director Alicia Gillen at 501.851.9700 or [email protected].