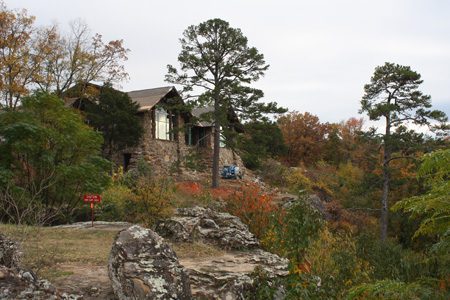 29 Nov 2011

Mather Lodge construction on schedule

Posted at 2:54 PMh

in

News

by Sonja J. Keith


Construction is on schedule at Mather Lodge and Restaurant at Petit Jean State Park, and officials are optimistic that work will be completed in time for spring break.

According to Superintendent Wally Scherrey, the new and improved lodge will have a look similar to the one at the state park at Mount Magazine.

The renovation will not affect any of Mather Lodge's original CCC and WPA work dating from the 1930s. In fact, efforts have been made to blend the new construction with the lodge's historic style, according to Scherrey.

"I think folks will be really pleased with it," he said.

The $4.3 million project replaces the lodge's 1960s-era dining room with a more rustic-style design, expands the kitchen, adds a 75-person conference room and relocates the guest registration desk.

Scherrey said there will be a spectacular view from the dining room.

Some of the work on the historic lodge includes some improvements that will not be noticeable to visitors, including insulation above the lobby area. While the work has been concentrated in the restaurant/kitchen/reservation area, some facelift improvements are being made in the lodge's 24 rooms, including new carpet and curtains.

The lodge closed in December 2010 to allow for the improvements.

A new swimming pool area is also included in the project. Public restrooms, convenient for the park's many hikers, will be added underneath the pool.

The project will also create additional parking in front of the lodge.

A dedication and grand opening will be planned closer to completion. For more information, please visit petitjeanstatepark.com.