08 Oct 2023

Marlon Rieth finds passion for cycling benefits weight loss

By Tammy Keith

Marlon Rieth of Conway went from cruising seven to eight miles a month on his basic bicycle to riding 780 miles a month on a road bike.

When his miles went up, his weight went down — from 360 pounds at his heaviest to 225. His waist went from 52 to 42 inches. "Cycling has changed my life," he said.

The 53-year-old's transformation started in 2020 during the pandemic. Inspired by his wife, Candy, and younger son, Aaron, he jumped on the health bandwagon by way of a new bicycle. His wife had bought a Peloton stationary bicycle and started losing weight and buying new clothes. His son started cycling in college.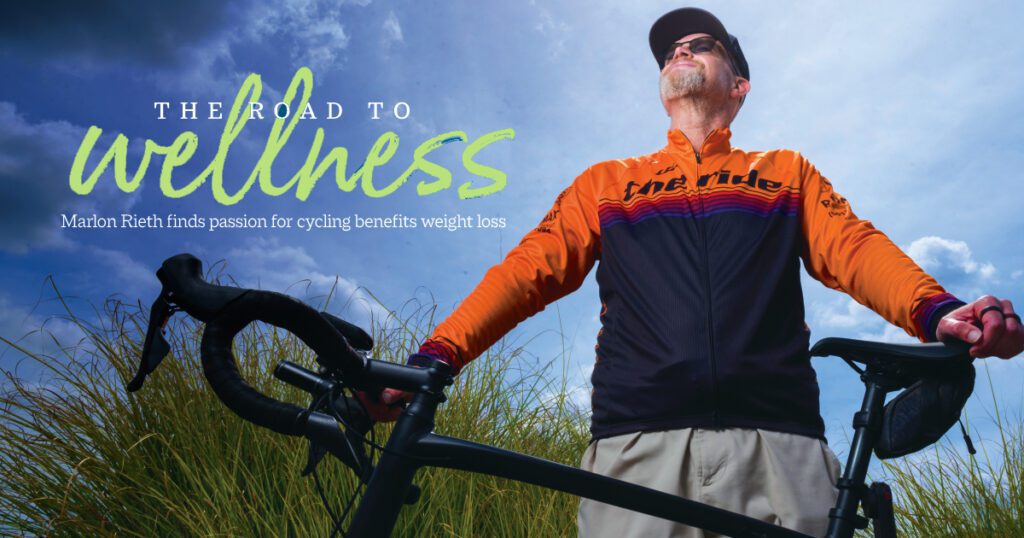 "I'm watching my son; I'm watching my wife. My wife's losing weight and buying new clothes, and here I am at 50 still eating the way I normally did. I said, 'Marlon, your comfort bike and pizza buffets on Fridays aren't working out.'" He said he got out of breath walking from his truck to the grocery store, and his knees hurt.
Rieth went to The Ride, a bicycle shop in Conway, bought a road bike and joined Conway Advocates for Bicycling. He was enthusiastic but unprepared for his first 25-mile ride. He recalled that he wore sweatpants and regular tennis shoes, and his experienced riding friends quickly pointed out that he needed padded shorts and cycling shoes.
"I was never a committed athlete until I got into cycling," Rieth said.
Now he often wakes up at 4:15 a.m., has a cup of coffee and a banana, and hits the road, or sometimes rides in the evening. A relationship banker at Arvest Bank in Conway, he is a member of the Arvest Cycling Club, which meets on Saturdays. He rides during the week with CAB friends, including Peter Mehl, "someone I aspire to be on the back of a bicycle"; Terry Coddington; Tonya Kizer; Chris McCauley; David DeRosa and Lori Ross.
"CAB is an amazing group of cyclists. I enjoy the camaraderie as much as anything," Rieth said. "I am out here having a good time. I'm not really worried about average speed. I love to be in the city of Conway and go around Lake Beaverfork and see the sun come up. … We climbed Wye Mountain … and the sun was coming up; it's just so beautiful. We'll see the occasional deer. I've been on more roads in the state of Arkansas on my bicycle than I've been in my car."
In September, Rieth rode in the Big Dam Bridge 100 presented by Arvest Bank and in the Conway Fall Classic sponsored by CAB.
Mehl said Rieth "really has come a long way." He recalled the first couple of times Rieth showed up: "He didn't have much of a bike," and he couldn't ride far distances. "He sort of got the bug and wanted to ride harder," Mehl said. "He's quite an inspiration to a lot of people."
Rieth's three-year journey of weight loss includes intermittent fasting and choosing protein shakes over pizza, but it's cycling that he credits the most.
"My biggest goal for the future is just to stay healthy so I can continue riding until I'm in my 70s," he said.