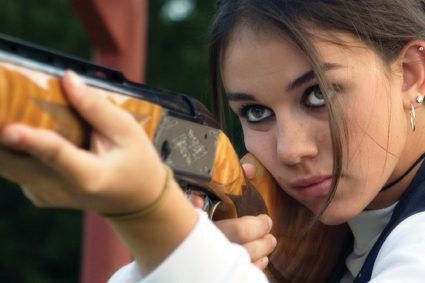 19 Nov 2009

Marksmanship program on target

It is the nation's largest youth trap shooting program.

And it already has an Olympic hopeful.

Kaile Browning of Greenbrier competed with the USA Shooting's national team over the summer and hopes to make the United States Olympic team for London in 2012.

"Kaile is probably one of the greatest examples I could ask for to represent our agency and our program," said Chuck Woodson, shooting sports coordinator for the Game & Fish Commission. "I'm proud we could have her as my poster child. She was already a very accomplished shooter before she came to us. For the young girls coming up, I wanted to have a brochure, and she was instrumental in getting lots of females involved in the program."

Trap shooting, in which machines throw targets at unknown angles, is the sanctioned sport of the AYSSP, which features junior and senior divisions. The junior division is for grades 6-8 and senior is for grades 9-12. The season runs from Feb. 1-July 31.

Woodson said last season included 4,198 participants, more than 80 schools and 454 volunteer coaches. Shooting teams come from schools, 4-H Clubs, Boy Scouts, Girl Scouts and church youth groups, among others. Each team is required to have a coach 21 or older who attends a required training session, and teams must have at least five members. (More information can be found at http://www.agfc.com/education-class/programs/ayssp.aspx.)

And 2010 should be even bigger, Woodson said.

"It's blown all our expectations away," he said.

Carrie Crawford, an administrative specialist in the Game & Fish education division, estimated that about a third of the total participants are from the 501. At press time, she said there were teams from 84 public schools, two private schools, one home school, seven Boy Scout troops, 18 4-H groups, eight church groups and five gun clubs. She said the organization had sent out 15 more grants this year.

She said among last year's participants were Greenbrier, Heber Springs, Southside Bee Branch and Rose Bud (schools), Van Buren County Youth, Mount Vernon-Enola Claybusters, Conway Clay Crackers, White County Central and Faulkner County 4-H.
Tommy Browning, Kaile's father, coaches the Greenbrier High School team. Wesley Wilcox of Greenbrier won the Arkansas Junior Olympic event last year.

Among the other top shooters in the 501 are Tim Culwell of Rose Bud, Shane Murray of Greenbrier, Austin Odom of Bryant, Clayton Woodson and Parker Hutchison of Greenbrier and Ethan Lafferty of Vilonia.

Tommy Browning said several other communities in the 501 had fielded teams, including Southside Bee Branch, Conway and Hot Springs.
The program is free, with teams eligible to apply for AYSSP grants that provide a basic team support package, including targets, ammunition, shell pouches, protective glasses and ear protection. A sales tax approved by Arkansas voters in 1996 helps fund those grants to get teams started.

According to the Web site, the AYSSP "aims to bring the joy of the outdoors and the rewards of safely learning to shoot to young Arkansans . . . Shooting sports are educational and fun. They also help today's youngsters become tomorrow's seasoned sportsmen."

The last training for volunteer coaches for the upcoming season is Saturday, Dec. 12. The session was full six weeks in advance.
"We encourage them to go ahead and send in their information, and even if they miss the training, they'll be on track and ready to go for next year," Crawford said.

Added Woodson: "The program wouldn't be anything without (the volunteers)."

All teams must register with the AYSSP state coordinator by March 1, a task that must be done by coaches.

According to http://huntingheritage.org/programs/arkansas-youth-shooting-sports-program, "(s)hooting sports, like many outdoor activities, are great sources of fun and relaxation when practiced safely and responsibly. The Arkansas Youth Shooting Sports Program is focused on providing a fun, safe environment for participating in shooting sports and reconnecting kids with the joy of being outdoors. The AYSSP raises awareness of conservation-related sports, promotes safety and responsibility and raises self-esteem."

Beginning with the 2010 season, all student participants must be hunter education certified.

Tommy Browning is a member of the board of directors of Youth Shooting Sports of Arkansas, a non-profit organization formed to help fund teams. He said YSSA would distribute its first funds in January. For more information, visit www.yssar.org.

He added that 63 schools participated in the collegiate national championships last year. Arkansas Tech has just started a team, joining such universities as Yale, Harvard, Texas A&M and Missouri, so scholarship money will be available.
Browning, a senior at Greenbrier, is aiming to attend college in Colorado Springs and live at the Olympic Training Center while working toward London in 2012.

"I have a drive, a motivation, to practice all the time," she said. "I'm the type that if I'm going to do something, I want to be the best at it. It made me realize the dedication you have to have for your team to be the best.

"A lot of kids don't have that motivation or drive."

Woodson said he thought she could meet her Olympic goal.

"Most certainly," he said. "It's been her goal and her dream. It's like any other sport — it's a head game, too, but if the conditions are right, if her mind's right and on the target, I'm looking forward to seeing her in London in 2012."

For more information, contact Woodson at 501. 978.7326.