By Don Bingham
The first location of a MarketPlace Grill was in Springdale — followed by locations in Fort Smith and Conway — and the rest is history!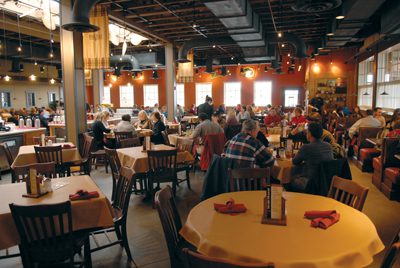 In case you are not aware, MarketPlace Grill also owns four MarketPlace Expresses with basically the same menu offerings, but with a fast food, convenient, stop-by concept.
Dave Godwin and Dave Strong were the originators — the first restaurant established in 1995 and the Conway location in 2001. MarketPlace Grill will soon celebrate its eighth birthday in the Conway dining market.
All of us have our favorites; mine would be the Flaming Queso (recently featured in the Paula Deen magazine), or the Chicken Berry Salad, or the Baby Back Ribs, or the Chocolate Mess.
The menu is diversified and unique with many choices and a melting of many ethnic flavors and dining options. Who can turn down the mesquite-grilled flavor or the sweet potato fries and delicious dipping sauce?
The restaurant serves a large demographic — from the dating couples to the retired community. The public is drawn to the quality and consistency of the kitchen's finished product.
"During the recent tragedy of the loss of some of the MarketPlace Grill employee family, we saw the Conway community to be incredibly supportive — of this we are tremendously thankful," said Dave Godwin, co-owner.
With MarketPlace Grill, it's all about the food, the service, and the experience.
"We are kitchen-system-driven and always have our eyes `wide open' for the trends we need to adapt for menu development," Godwin said. "We change our menus twice a year — always keeping the favorites of our customers."
It's great to know the discriminating palate has a nice variety of healthy alternatives in today's diet conscience society.
Don't rule out the catering offerings of the business, or the ordering by internet at www.marketplacegrill.com. Or, just stop in, seven days a week (11 a.m. to 9 p.m., with a 10 p.m. closing on Friday and Saturday).
Who knows, MarketPlace Grill could continue its tradition of outstanding food and service by presenting Conway with a MarketPlace Express in the future!