02 Jun 2023

Man of the Moment 2023: Kevin Burton

Kevin Burton serves at Unity Health – Jacksonville as Administrator, where he leads with integrity and shares his expertise, experience and encouragement.

Burton holds a Bachelor of Business Administration degree from Harding University, where he pitched and played infield for the Bison baseball team. He later returned to Harding to receive a Master of Business Administration degree in 2009.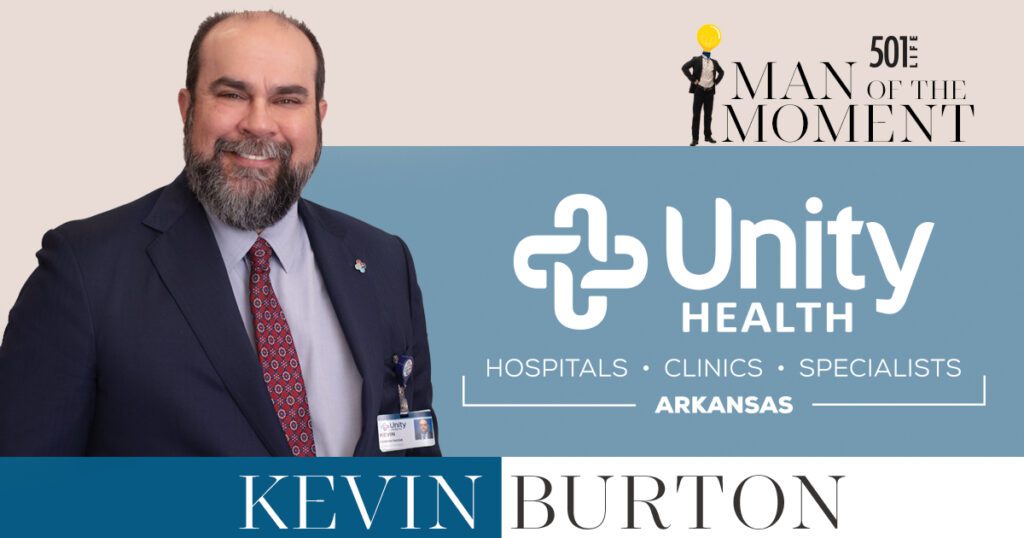 He loves living in the 501 and the "small town feel" it provides. From beautiful weather to great places to golf, Burton and his family are happy to call Arkansas home. "We have the conveniences of living in a larger city with the safety and relationships that are fostered in smaller towns," he said.
Burton is proud to lead the newly opened Unity Health – Jacksonville campus after being led to healthcare by his family's own experiences. Burton witnessed firsthand the impact of Unity Health when his mother was diagnosed with breast cancer and passed away at the age of 62.
"She was treated with such respect and compassion in her last days, when a job came available at Unity Health, I jumped at the chance to work for the organization," he said. "The mission of healthcare speaks to me. Even with a financial background, I have the opportunity to reach people in their lowest moments and have a positive and profound impact on their lives."
As a leader, Burton shares it is vital to learn how to listen, serve and know that you are the least important person in the conversation. "People will follow someone who values them," he said.
Burton learned these lessons and much more from the man who continues to inspire him today: his father. "He possesses a mix of a commanding presence and a servant's heart that I try hard to emulate," he said. "If I turn out to be half the leader, father, husband and man that my dad is, I will consider myself a success."
When sharing advice for those looking to lead, Burton said it is important to focus on what matters, help others by mentoring them, and invest in the people around you. "If you invest in people who in turn invest in others, your impact on the world grows exponentially."