02 Jun 2023

Man of the Moment 2023: Chad Bradford

If all the world's a stage, Chad Bradford is taking full advantage of it. As the Managing Director of the Arkansas Shakespeare Theatre, Bradford's productions have touched the lives of thousands across the country.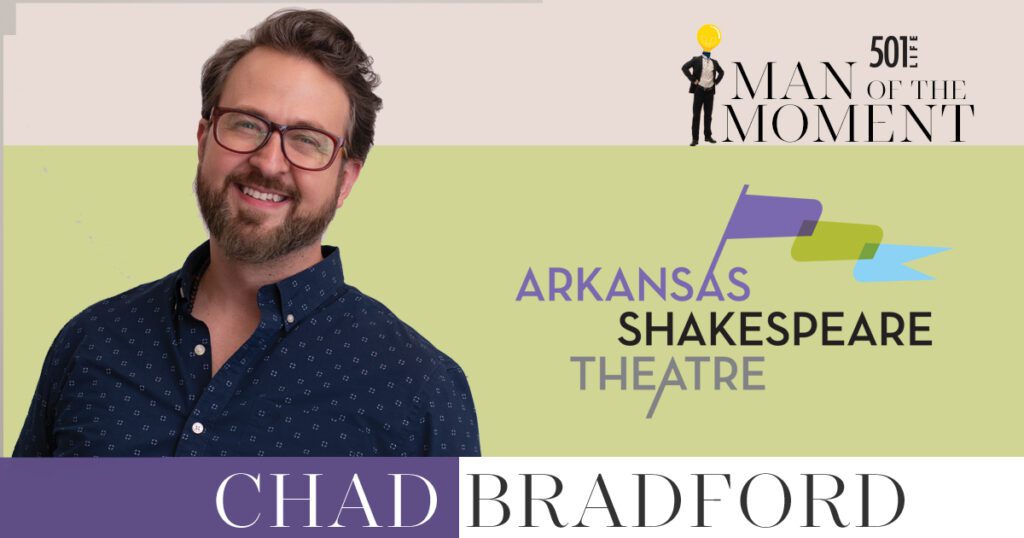 "Crafting and directing the tour at Arkansas Shakespeare Theatre and watching audiences from 9 to 99 engage in the work with laughter and smiles fills me with such joy," Bradford said. "We have toured our show all over the state, as well as to western New York and even the famous River Walk in San Antonio for four years straight. Watching 1,000 people stand and cheer for an Arkansas Shakespeare Theatre production along the river is a moment I'll never forget."
First inspired by plays witnessed at UCA, Bradford has come full circle in his desire to light up the stage.
"When I was younger, I was terribly shy," Bradford said. "It was only until I attended the summer theater camp at UCA as a teenager that I found my voice. I remember seeing productions at UCA and deeply feeling the messages in the plays, from sorrow to jubilation. I remember thinking that I wanted to give others what those actors had given me: the feeling of magic and the possibilities that are born in imagination."
The stage was also where Bradford met his muse.
"I met my wife, Sharon, at the UCA Summer Theatre camp when we were teenagers," Bradford said. "Theater at UCA truly runs in our blood. Through the years, she has been my dearest teacher and friend. Her kindness and generosity spur me to strive to be a better man every day."
Outside of the theater, Bradford is committed to spreading joy and possibility to artists of every kind. In addition to hosting the Voices of Unity podcast, which focuses on everyday spirituality, Bradford has also created Voices UnCaged, a program bringing theater arts experiences into correctional facilities. We can only transform the world when we transform our hearts, and there's no more effective way to accomplish that than a good story," Bradford said.
Chad Bradford can be reached at [email protected] or at arkshakes.com. To learn more about Voices UnCaged, visit VoicesUnCaged.org. To learn more about Voices of Unity, visit mindbodyspirit.fm/shows/voices-of-unity.