02 Jun 2023

Man of the Moment 2023: Bruce Hendricks

When Bruce Hendricks and his wife, Cindy, first started their remodeling business, it began with a vision to use their God-given talents to deliver peace of mind to as many people as possible.

Thirty-five years later, that vision is stronger than ever.

"From the beginning, we have been blessed by many things and inspired by many people," Hendricks said. "I have been influenced and taught by the best in the community from customers, family, employees, pastors, my children, bankers, attorneys, accountants, friends and even competitors. God, alone, inspires me the most, for without a relationship with God, I would never have been successful."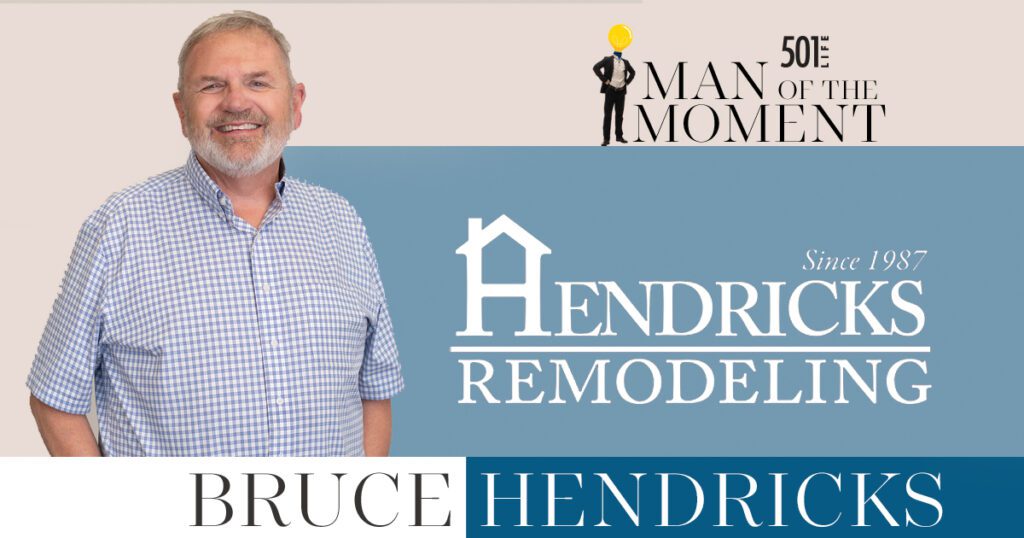 According to Hendricks, the secret to his business' success isn't the money. It's the looks of satisfaction on his clients' faces after a job well done and the long-lasting friendships that come with it.
"I enjoy giving someone a refreshed new space, like getting a new car," Hendricks said. "Whether it's a new kitchen, bathroom or a whole house, we have always strived to finish a project with the client saying, 'We are going to miss you being here.' Most importantly, we make sure the customers are happy at the end of the job. A good deal is only a good deal if both parties are happy."
Over the years, Hendricks Remodeling has blossomed from one couple's passion project into a true family business, with each of Hendricks' children playing a part in growing the business to where it is today.
"All of my children have blessed my life, and I am proud that they and their families live Godly lives," Hendricks said. "My daughter, Danielle, an interior designer, has periodically worked for the company over the years. Will, who served as my apprentice, now has his own construction company in Northwest Arkansas. Rob, who has worked by my side through the years, is now a missionary. Zac, my youngest, became a partner in the business with me in 2018 and is the best partner I could have ever dreamed of. His entrepreneurial spirit continues to grow Hendricks Remodeling to new levels."
"My daddy has always been my hero," daughter Danielle Barron said. "He taught the four of us how to work hard and play hard. More importantly, he taught us how to love God with all of our hearts and do everything we do for His glory and to love those around us with His love. He has been an example of this and I hope my husband and I show this same example to our kids."
"My dad has inspired me in many ways as a husband, as a father and as a leader," son Will Hendricks said. "He has always been humble and has led with integrity. As a leader, he always worked side-by-side with his employees. As a father, he loves his children with his whole heart and has always supported my choices. As a husband, he has shown me how to love and respect my wife as a partner in life."
"Dad always encourages me to seek Jesus and love God and others over anything else, regardless of others' beliefs or convictions," son Rob Hendricks said. "Just as Jesus modeled what he taught, Dad also models this well in church, family, community and business. When I worked in the family business, I watched him walk in righteous integrity and a few times when it cost him a high-paying job."
"Growing up, Dad was always up at 3 a.m.," son Zac Hendricks said. "I noticed that while he would eventually work on job estimates, he always started on his Bible study first. That taught me where my priorities should be as I grew in my own faith and got started in the family business. My wife and I have come to the realization that if we start our day in the presence of God, then the worries of the day will work themselves out. This is much to be attributed to how dad showed us how he started his days when we were growing up."
"Bruce's work ethic has always inspired me," son-in-law Adam Barron said. "It's the kind of work ethic that inspires those around him to strive toward greater effort than intended. Bruce always makes sure to keep family and relationships a priority, ensuring that a proper balance of work and life is maintained. I see in Bruce a desire to work hard and work well, but also to take the time to enjoy the fruits of his labor."
"When I think about Pops, the verse that comes to mind is Isaiah 43:2-3," daughter-in-law Jess Hendricks said. "'When you pass through the waters, I will be with you; and when you pass through the rivers, they will not sweep over you. When you walk through the fire, you will not be burned; the flames will not set you ablaze. For I am the Lord your God, the Holy One, your Savior.' He knows the Lord, he loves the Lord and the Lord loves him."
"I have always admired Bruce," daughter-in-law Mav Hendricks said. "When I think of him, I think of generosity. I have seen this in the family setting as well as in his business. He always values his customers and the relationship with them over profit. He has such a great perspective in recognizing what is eternal and what is fleeting."