02 Jun 2023

Man of the Moment 2023: Adam Gilbert

Adam Gilbert's favorite part of his job as senior vice president at First Security Bank is the same as the reason he loves the 501 — the people.

"From our church family to the families we cheer with at games on the weekends, the people make Conway feel like home," he said.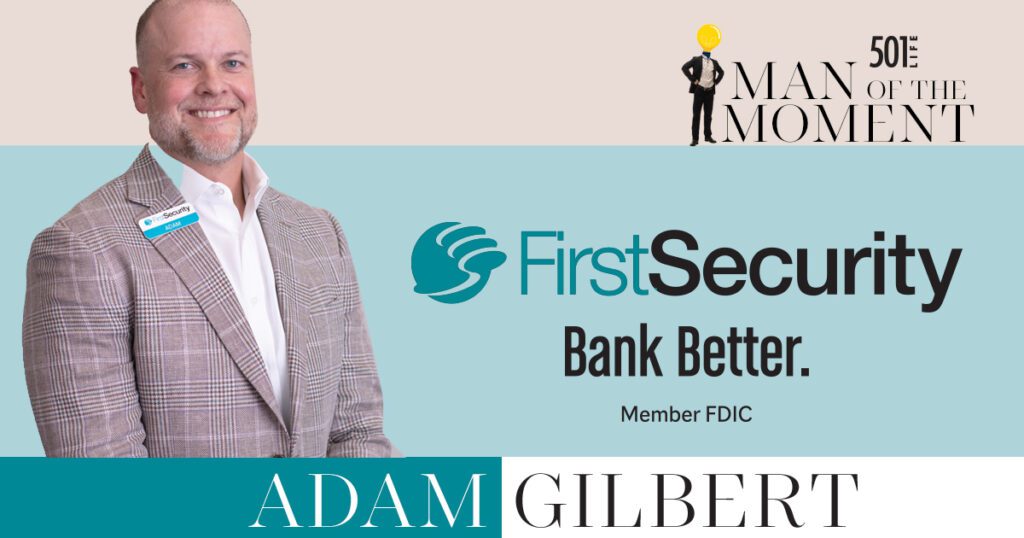 Gilbert and his wife, Kelly, have three children: Charlotte, 11; Luke, 9; and Mary Grace, 7. They are active members of Woodland Heights Baptist Church in Conway.
He has worldwide banking experience, but it's Conway where he and his wife choose to live, raise their family and work. Helping people and businesses in Faulkner County meet their goals and see their dreams become a reality brings him satisfaction.
"Early in my career, I got the opportunity to work with banks throughout the country. Banks are an integral part of every community, and it is exciting to be part of helping communities grow and succeed," he said. First Security serves communities, small and large, all over the state.
Challenges are part of life, but Gilbert said First Security has always thrived, no matter what situation it has faced. He recalled the challenge of the pandemic and how First Security succeeded in taking care of its customers. Being a local bank means being there for local people, and he takes pride in being part of the First Security Bank team.
"As a community bank, throughout 2020 and 2021 we wanted to be there to support our local businesses. It was a challenge to keep up with the constantly changing banking regulations and programs," he said. "It gave First Security Bank a unique opportunity to help these businesses stay open throughout so much uncertainty."
When he's not working, Gilbert can be found supporting his children in all their activities. In addition to the people in the 501, he's also partial to all the great barbecue, especially Vincent's BBQ and Almost Famous Smoke House and Grill. Contact Adam today at [email protected].