31 May 2022

Man of the Moment 2022: Richard Dold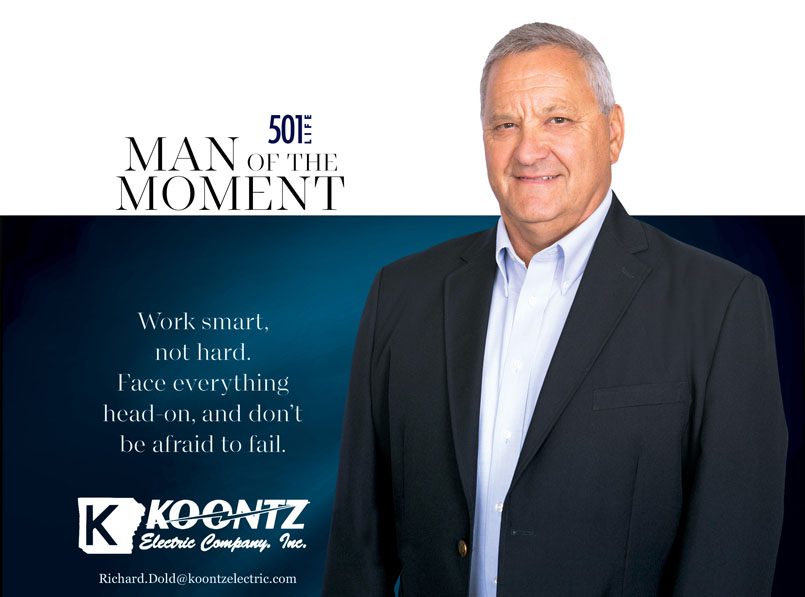 Richard Dold pursued a career in the electrical world because he believes the opportunities are endless. He went to work for Koontz Electric in 1978 and has worked for the ever-growing company for 44 years. His advice to young men is: "Never give up on your dreams. They may not turn out like you thought, but something even better could come along."
Over the years, Dold continued his education and holds the following credentials: OSHA 30-hour Certified, Contractor Quality Management (CQM) Certified, West Virginia and Oklahoma Journeyman Electrical Licenses, Arkansas and Texas Master Electrical Licenses and a Texas Contractor's License.
"As a member of the leadership team at Koontz Electric, I have had the opportunity to watch our company grow from a small, 15-person business to a 200-plus employee company that works on projects coast to coast," Dold said. "In the last ten years, we have completed over 500 projects exceeding $350 million."
Dold values small town living. He graduated from Sacred Heart Catholic School in Morrilton, and still attends the church and volunteers at the annual bazaar. He is also involved with St. Elizabeth Catholic Church and Knights of Columbus Council 5209.
"With jobs all across the country, I have had the chance to travel and live in other parts of the country, but I am proud to call Morrilton my home."
He is one of eleven children of Louise and the late Hubert Dold. "My mom and dad built a great legacy for their 34 grandchildren, 72 great-grandchildren and three great- great-grandchildren," Dold said. "I have four children and 12 grandchildren. Two of my kids and three of my grandkids work at Koontz Electric."
As he reflects over the success of Koontz Electric, he is glad the company calls Morrilton home. "I have been able to work with my own children, nieces, and nephews and watched as they have built their careers. Our company is a great asset for our small community and for the families of our employees.
The Power is in Our People.